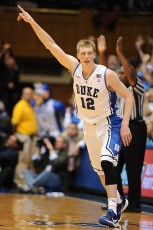 DURHAM - When Duke takes on Boston College this Thursday evening, it'll be their 20th game of the 2010-11 season.  I don't know about you, but for me the season is flying by.  In fact, it seems like a few months ago I was on the court in Indianapolis watching a group of joyous Blue Devils celebrate a national championship.
Coming into the season, Duke fans were giddy over the prospect of another title, especially with the arrival of Kyrie Irving, one of the best point guards ever to come out of New Jersey.  Ironically, Irving went down in New Jersey after stepping on Matt Howard's foot a mere eight games into the season.  Howard of course, plays for Butler the team Duke beat to win their fourth national title.
Irving's absence dominated the lips of many Duke fans for a long, long time, so much so that a portion of the season seemed to be taken for granted or lost in the shadow of his much talked about toe.  It has now become clear that if Irving does come back, that he'll need to get into playing shape, but most fans would rather have an 80% Irving than none at all.
His injury caused an always unwanted in season adjustment, where Duke, who was running at will suddenly went to more of a half court game.  The style is not as pretty but last seasons team used a similar half court sets and look what happened to them.  Of course, it is hard to repeat no matter who the cast of players might be and for Duke to make it to Houston, Texas for the Final Four, it'll take some luck along the way for they are each opponents main target and or their big game.
But let's keep in mind that some teams make their own luck and that is generally evident from improvement on the court.  Suppose Irving comes back, that would be great and he'd add that much needed ability to stretch the court.  But the lessons his teammates have learned in his absence will be of major value, especially when they face critical half court situations during March Madness.
There has yet to be a third scoring option step up since the untimely injury and now Duke enters the stretch run with just a dozen games left in the regular season to find one.  Ryan Kelly has showed the ability to do so of late, but the key will be if he can find consistency.  After all, there is usually no doubt that Nolan Smith and Kyle Singler will show up, but there are occasions when any solid player goes cold and that means others have to step in.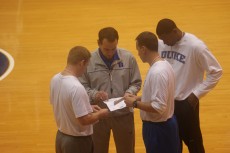 Last season Duke had three seniors in Jon Scheyer, Lance Thomas and Brian Zoubek.  This season they have but two in the aforementioned Nolan Smith and Kyle Singler.  Seniors have been through the wars and last years really stepped up their game and left with something special, a national title.
But last seasons three seniors had Singler and Smith behind them while this season as seniors have far less experience, so there is a major drop off from a year ago in seasoning where Miles Plumlee is the only junior on a team full of sophomores and freshman.  Duke is still a young team past two seniors, and yes, I played the young card.
Then again, Irving is young as well but he had a savvy about him that is rare, yet he was still learning the game.  Even so, Irving made Duke better, a legitimate number one if you will.  Furthermore, he was the third scoring option. 
During his absence Seth Curry has had a golden opportunity to step up but he is seemingly adjusting to the speed and physical nature of the division one game. Andre Dawkins has showed flashes of brilliance but he is still rounding out his game and the Plumlees are still finding their way.  But there is hope for even more improvement and Krzyzewski recently said he liked where the Plumlees were at this point in the season.
Miles Plumlee started slow, but he is now getting where he fits in and that's a good sign.  His brother Mason has become a rebounding and shot blocking machine and he simply needs to keep that up.  However, Mason can break out at any time on offense where he is adjusting to the slower pace rendered by Irving's absence.  In fact, both the Plumlees's are capable of turning another corner as the season goes on.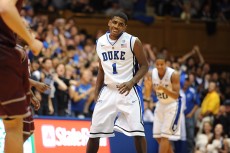 During the many pre season interviews with Mike Krzyzewski, he stated this team would be a work in progress and that he did not want them to gel too early.  There is a lot of wisdom in that statement for it is clear a team must get hot for six to eight games to take home the big prize.  And his comment rings especially true with Irving's absence.
That said, it's time to relish and enjoy each and every game during the stretch run for there are a lot of questions which need to be answered.  Will Irving come back and if so what kind of game will he display?  Are two sensational seniors in Singler and Smith enough to put a team on their backs should Irving not return?  Can Curry start knocking down his shots which he drills in practice?  Can the Plumlees step up and will Ryan Kelly continue his play of late?
Maybe we'll see Andre Dawkins game swell, but who really knows?  And that is not all to watch out for.  Will Duke get the coveted number one seed where they'll play in New Jersey, Charlotte and Houston should they make a run?
With a bevy of Big East teams adorning the Top 25 a number one seed in the east is no longer as clear as it once seemed, so that means, Duke has to win it's share of games against conference foes while taking their best shots.  It's no secret that defeating Duke is a resume builder for the NCAA's and there are a lot of balanced conference teams looking for a signiture win.
Again, there is nothing more exciting than the stretch run into the tournament, so now is the time to beam in and savor each game for it will pass you by if you don't.  It all starts with an upstart Boston College team this Thursday night and this weekend Duke faces a dangerous trap of a game versus St John's in New York.  And for those of you who are unaware, the game with the  North Carolina Tar Heels is now just tens days off.
By the end of the journey, fans will find out if Krzyzewski found the right buttons to push along the way.  But it'll be up to some young players to step up their game as well.  Let the games begin.