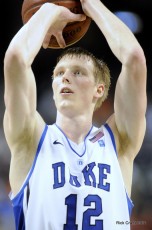 GREENSBORO - The name of the game in March is to survive and advance and Duke did just that on Saturday night.  The Blue Devils took out a game Maryland team with a 87-71 victory.  Had someone told you before the game that Nolan Smith would score just 7 points and commit 5 turnovers to 2 assists you would have thought Duke lost.  If somebody told you Duke would knock down 3 of 15 threes you may have thought the same thing.
Duke won because players stepped up in a big way, in short, it was a team effort. When Smith went down with a stubbed second toe, Seth Curry rose to the occasion and ran the point as if he'd been doing so all season.  Curry struggled early, but his game came togehtr at just the right time.
Then there was the play of Kyle Singler who went 10 of 15 from the field and 9 of 9 from the free throw stripe for 29 points to go with his 9 rebounds.   Singler played with confidence and really put the Blue Devils on his back scoring 6 of the Blue Devils first eight points.
"Kyle had a magnificent game and out bigs really rebounded well, Kelly especially in the first half," stated Krzyzewski. Ryan Kelly finished the game going 5-5 from the field for 11 points and 2 rebounds in 13 minutes of play.
The brothers Plumlee were very effective as well.  Mason had a double-double of 10 points and 11 rebounds while Miles had 10 points and 9 rebounds.  The duo helped hold Jordan Williams to just 16 points, but he did manage a whopping 16 rebounds.  Miles also had success with his perimeter jump shot, something he leaned on in high school.
Duke also got a boost from Andre Dawkins who tallied 9 points while playing 18 meaningful minutes.  Duke outscored the Terps 34-32 in the paint, 13-9 off turnovers and got 20 points from their bench as they pushed their season record to 28-4.
"It was a a hard fought win for us.  Maryland is always an unbelievably tough game for us," said Krzyzewski.  Duke will face the winner of the Virginia Tech- Florida State game tomorrow.
**I hope to have videos up, but it is not looking good at the moment due to unforseen issues.
Team Notes:
Duke has now won seven straight ACC Tournament games in Greensboro and have also won seven straight overall with championships in 2009 and 2010. The Blue Devils have won a record 88 ACC Tournament games all-time and are 34-15 when playing in Greensboro.
Head coach Mike Krzyzewski earned his 50th career ACC Tournament win and is now 50-17 all-time. He is just the second coach in conference history with 50 tournament victories, joining North Carolina's Dean Smith (58). Since 1998, Duke is 33-4 in the ACC Tournament.
When playing in the Greensboro Coliseum, Duke is now 40-9 under Coach K with victories in 13 straight contests dating back to the 2004 ACC Championship game.
The Blue Devils have won 18 straight neutral site games dating back to a loss to Villanova in the 2009 NCAA Tournament.  
Duke improved to 4-0 this season in games following a loss and have not lost back-to-back games since the 2008-09 season. They are 17-2 when following a loss over the last four years.
Over the last three seasons the Blue Devils have collected 93 overall victories to tie for the fifth most over a three-year span in school history.
The 87 points were the most by Duke since Jan. 19 when they scored 92 in a win over N.C. State. The Blue Devils are 18-0 this season when scoring 80 or more. 
The 31 made field goals gives Duke 13 games with 30 or more made shots. It is the first since the last time the Blue Devils faced Maryland that they have made at least 30 shots.
The Blue Devils continued their struggles from beyond the arc, making just 3-of-15 (.200). They have shot under 25 percent from deep in three of the last four games.
Five Duke players scored in double figures. The last time the Blue Devils had five players score at least 10 points was the last time they were in the Greensboro Coliseum on Dec. 29 against UNC Greensboro.
Mason Plumlee, Miles Plumlee and Kyle Singler combined for 29 of Duke's 41 rebounds. Miles Plumlee and Singler each were one rebound shy of a double-double. It was the 22nd time Duke has outrebounded its opponent with a 21-1 record in those games.
Duke's Ryan Kelly and Kyle Singler combined to go 10-for-10 in the first half. The two players bounced back from a poor shooting performance at North Carolina where they combined to go 4-for-21. Kelly was 1-of-7 and Singler was 3-of-14. 
Player Notes:
Seth Curry
Sophomore Seth Curry played in his first career ACC Tournament game as he sat out last season's championship run due to NCAA transfer rules.
Curry finished with 11 points to give him 14 games this season with 10 or more. 
He had three steals to extend his team-high total to 46 on the year. He has six games this season with three or more steals.
Andre Dawkins
Sophomore Andre Dawkins came off the bench to make two three-point field goals. He has made two or more treys in 16 games this season. His nine points were the most he has scored since he had 11 at Maryland in the two school's last meeting.
Ryan Kelly
Sophomore Ryan Kelly scored 11 points for his eighth double-figure scoring game of the year.
Kelly made all five of his field goal attempts. It is the second time this season he has had five or more field goal attempts without a miss. The other was a 6-for-6 performance at Wake Forest on Jan. 22.
Mason Plumlee
Sophomore Mason Plumlee recorded his sixth double-double of the season with 10 points and 11 rebounds. It was the second straight season Duke had a player post a double-double in the ACC Tournament quarterfinals as Kyle Singler had 18 points and 11 rebounds against Virginia last year.
It was his ninth game this season with at least 10 points and 12th career game.
He has posted 10 or more rebounds in 14 games this season. 
Plumlee also set a career high with five assists. His previous high was four assists earlier this season against Princeton.
He played a career-high 38 minutes in the win. His previous best was 36 minutes at Maryland.
Miles Plumlee
Junior Miles Plumlee earned his 10th start of the season and 36th career start. It was his first start since the first time Duke played Maryland on Jan. 9.
Plumlee reached double figures in scoring for the fourth time this season and 11th time in his career. 
He finished with eight offensive rebounds, one shy of the ACC Tournament single game record. It was the most by a Duke player since Kyle Singler had nine against Princeton on Nov. 19, 2007.
Kyle Singler
Senior Kyle Singler made his 100th consecutive start and extended his school record to 142 career starts. His 143 career games played ranks tied for sixth most at Duke with Danny Ferry.
He tallied his 12th game this season with 20 or more points and 44th career game. It was his fourth 20-point game in nine career ACC Tournament games. 
With his 29 points he climbs three spots on the ACC career scoring list and now ranks eighth all-time. He passed N.C. State's David Thompson, Virginia's Jeff Lamp and Duke's Mike Gminski. He now ranks fourth on the Duke career list.
Singler made his first six field goal attempts of the game, including 5-of-5 in the first half. It was the fifth game this season he has made 10 field goal attempts.  
He was 9-of-9 from the free throw line and has made 40-of-44 (.909) from the foul stripe in the last six games. 
The victory gives him 121 for his career, moving him into a tie for fifth most in ACC history with North Carolina's Deon Thompson.
Senior Nolan Smith had his streak of 22 straight games with at least 10 points snapped. He had scored in double figures in 30 of the 31 games this season.
The victory gives him 117 for his career, moving him into a tie for eighth most in ACC history and tied for fifth in school history with Danny Ferry and Nate James.