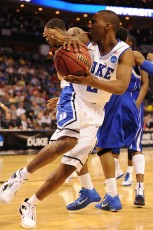 CHARLOTTE - Duke will take on Michigan today and a win will advance them to the Sweet 16 in Anaheim, California.  There is one standard which remains the same, that being survive and aadvance.  But this years team is different than last seasons and that is a key point to remember when one speculates about the 2010-11 team.
Having followed Duke to the national championship last season, I can tell you the make up of that team and this seasons is indeed different.  This years team is loose, all business mind you, but not in the way of last years senior laden group backed by solid juniors.  Last season Duke had tunnel vision in that they kept their eyes straight ahead, being completely unaware of their surroundings.  There were few smiles until the job was complete for that group and I still remember visions of an exhausted Lance Thomas after each win.
This season, Duke seems to be a bit less tight and that is probably because they are taking on the personality of their leaders.  Nolan Smith is a gregarious type, light on his feet and quick to humor.  Kyle is more of a quiet leader, one by example if you will.  But both know what they want and how to get there, win and survive. 
Today, Duke faces a Michigan team that is more than capable of pulling the upset, especially if they are overlooked.  If you think Duke being a tad more relaxed this year will hurt, think again.  Few teams have been able to stop Nolan Smith this season and that's why he is a first team All American and Player of the Year, depending on which service suits you.
Then you add Kyrie Irving, a media darling since his return, one which has excited both the team and fanbase and Duke will be a difficult out.  But the key today for the Blue Devils is to control the paint with their bigs and if they establish themselves there first, they should win.  The best way to defeat the Wolverines is to sap their collective will and that is not easy.
Many have said that the Wolverines don't pass the look test but their on the court successes are hard to ignore.  Michigan is one of the better coached teams in America under Jim Beilein and they are fairly deep, patient and not easily shaken.  Michigan will want to make it a half court game and keep the scoring down and they'll throw multiple looks designed to confuse Duke on defense.
If they go to that pesky 1-3-1 zone defense where they slough off to get back in the paint, Duke can counter by rolling players through the baseline taking advantage of the Plumlees, Kelly and Singlers height.  But the real key is to simply start fast.
The way to beat the Wolverines is to jump on them from the start and make them play from behind.  If Duke controls the tempo and pushes the ball when the opportunities are there, it will lead to victory.  And don't be surprised to see Duke start to run or push the ball more and more with Irving back.
Another key is for the whole team to show up.  Duke has been getting good minutes from top to bottom of late and that has been vital to their run through the ACC Tournament.  To win in the NCAA tournament, every player has to play their roles to the best of their ability, a no brainier for sure but the bottom line.
Duke will need to drain their three point shots while pushing the Michigan shooters off the stripe.  If you keep Michigan to say 5 or less three pointers you have a solid chance.  So jumping on the opponent early makes them play from behind and takes what is sure to be an anti Duke crowd out of the game.  With the place full of Tar Heel fans, if the game is close, it could be like an away game atmosphere.
I feel Duke knows they cannot overlook Michigan.  Krzyzewski is not focused on the Fab Five debacle and while his team may seem a bit more loose, he is anything but, being focused as ever.  Duke will take an early lead and slowly drain the will of Michigan, but don't look for a major blowout.  The pick here is Duke 77-63