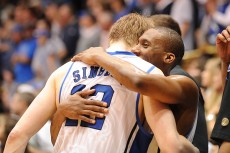 DURHAM - Having followed both Kyle Singler and Nolan Smith's path to Duke since their high school days, it was hard for me to come to the realization this was their last game in Cameron.  Singler picked Duke late in the process and I can remember discussing that he'd watch video of Larry Bird with his Father.
Smith was smiling the first time I met him and he'll be smiling the last time I see him or maybe I should say, he smiles every time I see him?  I guess as you age time flies, for it seem like just yesterday when I was interviewing them for the premium section of our site.
The two seniors went out with a bang tonight helping Duke set up a showdown with North Carolina for the regular season championship this Saturday.  Make no mistake, the Clemson Tigers came to play and Brad Brownell has made quite the impression as their first year coach.
In the end, there was just too much positive mojo in Cameron for the Tigers to do anything other than keep the game close as Duke cruised to a 70-59 win.  Smith ended the game with a game high 21 points and 7 assists while Singler added 18 points and 11 rebounds for a double-double and his 25th game at Duke with 10 or more boards.
Seth Curry bounced back after a miserable game at Virginia Tech and added 16 points while Mason Plumlee chipped in with 8 points, 7 rebounds and 5 blocks.  His aggressive play earned the praise of Coach K un the post game press conference.
We'll have more on the game shortly.  Actually, it could be morning in that we are running quite late this evening.