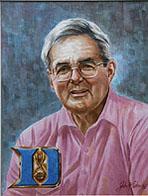 If you are a member of the media you are well aware that at Duke you interview coaches and players in the Bill Brill Media Room.  Brill is a Duke icon and a legend in many ways.  When Brill would sit down to write his articles, he had a unique style in that he would pop the keyboard with two fingers rarely referring to notes.  That is the kind of guy he was, full of knowledge and that's why his work was off the top of his head and straight forward.  Brill would often ask me about recruiting and he was quick to tell you he was into the sport it has become before it became popular.  I had an opportunity to visit Brill at his house helping him with a computer issue and from that point forward we got to know each other over the years at various Duke events.  Brill passed away on Sunday and he is now in a better place, likely still watching his Blue Devils.  I speak for many in the media in saying, we'll truly miss Bill.  And each time I enter the media room at Duke in the near future, I will pay homage to his name where it appears on the wall.  Here is more on Bill Brill.  And this from Go Duke.  When I first started attending Duke as media, I would always sit with Bill Brill, Jim Sumner, Al Featherston and Bob Harris at our Duke table.  We'll save an empty seat for Bill in the future as a tribute.
It's recruiting season around BDN and I am just getting to many articles that will hit this coming week.  I attended the NIKE EYBL in Hampton, Virginia to get a glimpse at Duke prospects and future Devils.  We spoke to several kids, including Rasheed Sulaimon who will be doing a diary for Blue Devil Nation during his AAU and coming high school season.
One of Duke's key prospects Tony Parker didn't play in the last two games with back problems, but he showed off his new physique.  We have a lot of information on him and the recruiting process on the inside at BDN Premium, so it is a great time to join and gain full site access.  We have a ccouple of videos coming this afternoon on him as well.  We also cover a bevy of new names and you can discuss the latest with fellow members on our subscriber only message board.
This coming weekend features two events of concern for Duke fans.  The first is of course, the Duke Men's Basketball Banquet, always a good time and for the truest blue of fans.  Tickets are still available.  Then there is the Jordan-Brand All Star event in Charlotte, North Carolina.  BDN will be front and center for the festivities where we will talk with Austin Rivers and Michael Gbinije.
This weeks Monday Musings is a bit short, but we will return next week with a more in depth look at happenings around the Duke Athletic Programs.