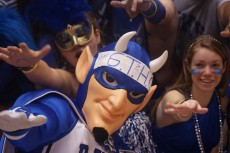 DURHAM, N.C. - Duke and the Atlantic Coast Conference released its 2011-12 men's basketball schedule on Wednesday. All 31 games on the regular season schedule will be televised.
The Blue Devils, who return eight letterwinners and three starters from last year's team that finished 32-5 overall and advanced to the NCAA Sweet 16, face another challenging schedule in 2011-12.
The Blue Devils open the season on Friday, Nov. 11 at 9 p.m. against Belmont in the regional site game for the EA Sports Maui Invitational. Duke turns right around for a 4:30 p.m. game on Nov. 12 versus Presbyterian. The Maui Invitational will continue Nov. 21-23 in Lahaina, Hawaii with Duke set to face Tennessee in its first game at 5:30 p.m. on Nov. 21.
The first game away from Cameron Indoor Stadium will be Tuesday, Nov. 15 when the Blue Devils travel to New York City to square off against Michigan State at 9 p.m. in the Champions Classic at Madison Square Garden. Other non-conference games include Davidson at home (Nov. 18), at Ohio State in the ACC/Big Ten Challenge (Nov. 29), Colorado State at home (Dec. 7), Washington at Madison Square Garden (Dec. 10), UNC Greensboro (Dec. 19), Western Michigan (Dec. 30) and Pennsylvania (Jan. 1) in Cameron, at Temple (Jan. 4) and a home game against St. John's (Jan. 28).
Duke's ACC slate starts on Saturday, Jan. 7 with a road contest against Georgia Tech. The following Wednesday, Jan. 11 will mark the Blue Devils' conference home opener against Virginia. Duke will play home-and-home ACC series with Wake Forest, Florida State, Maryland, Virginia Tech and North Carolina. They have single games against Georgia Tech, Virginia, Clemson, Miami, N.C. State and Boston College.
The regular season finale will feature Duke vs. North Carolina in Cameron Indoor Stadium on Saturday, March 3. The game has been tabbed a "flex pick" for ESPN's College GameDay Driven by State Farm coverage.
Duke has won eight ACC regular season championships in the past 15 years and 10 of the last 13 ACC Tournament titles. The Blue Devils have compiled an impressive 191-49 league record over the past 15 seasons, including a 13-3 mark last year.
Duke opens the 2011-12 preseason on Oct. 14 with Countdown to Craziness. The Blue Devils will then play Bellarmine (Oct. 29) and Shaw (Nov. 2) in exhibition games prior to the start of the regular season.
2011-12 Duke Basketball Schedule
Fri., Oct. 14 Countdown to Craziness Cameron Indoor Stadium 8 p.m.
Sat., Oct. 29 Bellarmine (Exhibition) Cameron Indoor Stadium 7 p.m.
Wed., Nov. 2 Shaw (Exhibition) Cameron Indoor Stadium 7 p.m.
EA Sports Maui Invitational
Fri., Nov. 11 Belmont Cameron Indoor Stadium ESPNU 9 p.m.
Sat., Nov. 12 Presbyterian Cameron Indoor Stadium ESPNU 4:30 p.m.
Champions Classic
Tues., Nov. 15 vs. Michigan State ^New York, N.Y. ESPN 7 p.m.
Fri., Nov. 18 Davidson Cameron Indoor Stadium ESPNU 6 p.m.
EA Sports Maui Invitational (Chaminade, Georgetown, Kansas, Memphis, Michigan, Tennessee, UCLA)
Mon., Nov. 21 Quarterfi nals - vs. Tennessee +Lahaina, Hawaii espn2 5:30 p.m.
Tues., Nov. 22 Semifi nals +Lahaina, Hawaii ESPN 7 p.m.
Wed., Nov. 23 Championship Game +Lahaina, Hawaii ESPN 10 p.m.
ACC/Big Ten Challenge
Tues., Nov. 29 at Ohio State Columbus, Ohio ESPN 9:30 p.m.
Wed., Dec. 7 Colorado State Cameron Indoor Stadium ESPNU 7 p.m.
Sat., Dec. 10 vs. Washington ^New York, NY CBS 12 noon
Mon., Dec. 19 UNC Greensboro Cameron Indoor Stadium TV - TBA TBA
Fri., Dec. 30 Western Michigan Cameron Indoor Stadium espn2 TBA
Sun., Jan. 1 Pennsylvania Cameron Indoor Stadium ESPNU 5 p.m.
Wed., Jan. 4 at Temple %Philadelphia, Pa. espn2 7 p.m.
Sat., Jan. 7 at Georgia Tech &Atlanta, Ga. ESPNU 12 noon
Thurs., Jan. 12 Virginia Cameron Indoor Stadium ESPN/espn2 9 p.m.
Sun., Jan. 15 at Clemson Clemson, S.C. ESPNU 6 p.m.
Thurs., Jan. 19 Wake Forest Cameron Indoor Stadium ESPN/espn2 7 p.m.
Sat., Jan. 21 Florida State Cameron Indoor Stadium ESPN 4 p.m.
Wed., Jan. 25 at Maryland College Park, Md. ESPN 9 p.m.
Sat., Jan. 28 St. John's Cameron Indoor Stadium ESPN/espn2 12 noon
Thurs., Feb. 2 at Virginia Tech Blacksburg, Va. ESPN/espn2 7 p.m.
Sun., Feb. 5 Miami Cameron Indoor Stadium ESPNU 3 p.m.
Wed., Feb. 8 at North Carolina Chapel Hill, N.C. ESPN/ACCN 9 p.m.
Sat., Feb. 11 Maryland Cameron Indoor Stadium ESPN 4 p.m.
Thurs., Feb. 16 N.C. State Cameron Indoor Stadium ACCN 9 p.m.
Sun., Feb. 19 at Boston College Chestnut Hill, Mass. ESPNU 6 p.m.
Thurs., Feb. 23 at Florida State Tallahassee, Fla. ESPN/espn2 7 p.m.
Sat., Feb. 25 Virginia Tech Cameron Indoor Stadium ACCN 12 noon
Tues., Feb. 28 at Wake Forest Winston-Salem, N.C. ESPNU 9 p.m.
Sat., Mar. 3 North Carolina Cameron Indoor Stadium ESPN 7 p.m.
Thurs., Mar. 8-
Sun., Mar. 11 ACC Tournament &Atlanta, Ga. ESPN/ACCN
^Madison Square Garden
+ Lahaina Civic Center
%Wells Fargo Center
&Philips Arena
All Game times are Eastern Time Zone
Duke Basketball Schedule Link