Good Morning Blue Devil Nation!  Well, it's always a pretty good day when you're a faithful follower of the royal blue for we are lucky to be fans of such a great athletic program.   This weeks Monday Musings gets back to our jump all over the place style and with that said, let the musings begin ...
Duke was not lucky to defeat Boston College
The Football Gods indeed smiled on the Blue Devils this weekend as a Boston College field goal to win the game clanked off the left up right as time ran out securing a 20-19 win.  Those who didn't watch the game said Duke was lucky but I have a different take.  The Blue Devils did enough to put themselves in position to win.  In fact, they were clearly the best team on the field and mistakes cost them a chance to coast to victory.  At some point, luck had to side with the Blue Devils who've been snake bit by their field goal kicking team.  And oh what irony that it was a missed field goal that brought them redemption.
An amazing record breaking performance by Sean Renfree
It couldn't have happened to a nicer young man!  A record breaking day is what I speak of where Duke junior quarterback set an all time Duke Football record with 41 completions.  The 41 completions are a new school single-game record, bettering the previous mark of 40 set by Thaddeus Lewis vs. N.C. State in 2009.   Renfree relaxed in this game as he saw his offensive line give him plenty of time to pick apart the Boston College secondary.  Finding the red zone was just what the doctor ordered for Renfree who had been off to a bit of a shaky start this season.  And let's hope that he continues to hang in the pocket and pick the Green Wave of Tulane off this coming weekend.
Speaking of the Green Wave
We often joked about how Duke flat out has bad luck when scheduling future opponents.  It would take a lengthy article to discuss how when teams are first on the schedule, they finished the season like 1-11, yet the year before they hit the schedule they go to a bowl game and return their entire team.  Yes, I am talking about Florida International, the next road game, but then there is Tulane.  The Green Wave were a whipping boy when scheduled, but they have now morphed into a 2-1 team coming off a huge road win against Alabama-Birmingham.  Tulane is the opposite of Duke right now in that they are a junior and senior dominated team while Duke has five total seniors on their two deep roster.  Anyhow, this game looked like a sure win but now it looks to be a be a close game and the Blue Devils need their fans turn out and root them to their second consecutive win.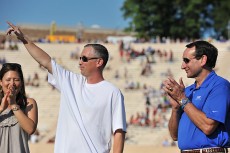 ACC Expansion
The Atlantic Coast conference made a strong move to bring in Pittsburgh and Syracuse and I for one applaud them. Yes, I know that I have stated on more than once occasion that I hated the original expansion.  Yes, I am a traditionalist at heart as well.  But if you had to add a couple of teams, I am okay with the additions.  The ACC was pro active and chose two teams they wanted in a time of impending change.  Trust me, that's a lot better than our chances of seeing what is left after every other conference is done.  Basketball was strengthened which added more balance in that ACC Commissioner John Swofford's first move was all about football.  I am not alone in hating that move and it never turned out like planned with a huge ACC Football Championship game between the incoming studs.  However, this latest move will solidify the commissioners legacy and you can bet that a 16 team league will happen.
BDN Twitter and Facebook Pages

We've set the pace with changes for a long time here and since our inception you have seen our ideas, style and concept copied by others which is flattering. We get what Duke fans want and so ideas come with ease around here. Blue Devil Nation was the first site or entity to ever tweet live from press row in Cameron Indoor Stadium and we have a lot of fun that time of the year.  We have more competition these days but as they say, there is nothing like the original.  I am very in touch with the program and what is happening and I think that shines through and is the difference maker.    We have a great following on Twitter and I hope you join us.  Just yesterday, Sunday worship and such was interrupted by the announcement of ACC expansion and BDN tweeted the happenings of the call in media event for our followers and share a lot of information obtained from our many sources. We tweeted from the 2010 national championship game and have done so from major AAU events as well.  And there is no place better for breaking news, tips and teases, so go to the side of the page and follow us, we have a lot of fun.  We have a Facebook page as well, a group called Blue Devil Nation which we are just now starting to grow, so check that out to.
Back to expansion -- a chance to get it right this time
The current conference alignment has never been popular amongst most ACC fans.  I mean, Duke not playing long time rival North Carolina State yearly in football is a crime.  The original idea was to separate then football powers Florida State and Miami so that they would meet in the championship.  The thing fact is that never happened.  Let's hope there is more respect given to geography this time and that whomever thought Maryland was the Blue Devils rival rethinks the situation a bit.  A few great basketball games does not make the Terps the Dukies chief rival behind North Carolina.
Hurley, Hurley, Hurley, Hurley
Some of you have no idea how hated Bobby Hurley was when he ran the point guard position at Duke.  I will never forget a particular game at Chapel Hill where I had never to this day seen such seething hatred from part of their fan base.  He was cursed at, spit at and was called everything from dare I say this, "faggot," to you name it.  I suppose it was difficult for them in that he led Duke to their first national title the year before and there was a new guy in town named Mike Krzyzewski in his early pre legend years.  Again, I have never seen that kind of hatred since from their fan base since.  Everywhere Hurely went fans would chant his last name over and over and Bobby seemed to thrive on it.  Why did I bring all this up?  Because I will finally get to that Bobby Hurley interview this week so stay tuned for that.
In closing this week it is important to remember that we are all Blue Devil fans and on the same team.  Far too often, silly site wars divide fans and that simply has to stop.  There is no such thing as good Duke fans and bad Duke fans for all Duke fans are supportive of the programs.  It is time to heal wounds from the past an move forward together on a united front.  You can always depend on Blue Devil Nation to bring you the most Duke-centric experience possible.