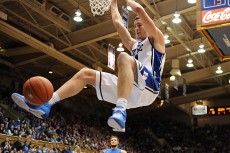 With Countdown to Craziness right around the corner, I thought it a good idea to have our own countdown to the CTC.  I'm really excited about Miles Plumlee going  into his final season at Duke.  Plumlee will almost assuredly start for Duke and I think he's ready to have a big year.  Apparently Coach K thinks so too in that he named the eldest Plumlee a captain for the coming season.
Miles is an exceptional athlete as seen by his flashes of brilliance.  I think he'll harness those flashes in a more consistent manner this season and more importantly, I look for him to pick up the team when they need a lift.  Plumlee brings toughness up front and his mature frame will benefit him against the likes of  UNC's vaunted front court.  In fact, Duke closes the regular season against the Heels at home and Plumlee will be the lone senior on the team, so it'll be his day.
Last season, Miles came rolling out on a unicycle to the delight of the Cameron Crazies during CTC.  And for the record, Plumlee can juggle while riding his unicycle as  well.  It'll be interesting to see what he comes up with in a mere ten days from now and for that matter what song he chooses for his introduction.  And you can bet that the athletic senior will have a few slams up his sleeve for the dunk contest.
I remember his recruitment as if it were yesterday.  In fact, it sure as heck doesn't seem like it's time for him to graduate.  Duke first recruited Miles brother Mason and at that time Miles was Stanford bound.  With the coaching change, Miles decided to come to Duke to play with his brother.  In hindsight. Duke got a two for one deal of the young men who led Christ School, Arden to the state title.
It's been fun watching Miles mature into the man he is today.  The once quiet Plumlee has now stepped up to the challenge to lead this years team and you will see a much more outgoing player, one who when Duke needs a play, will reach deep to make it happen.  Miles Plumlee.  Just another reason to look forward to Countdown to Craziness.
Be sure to check out Andrew Slaters outstanding in depth  Miles Plumlee Interview in this link.