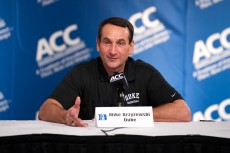 The college basketball world stopped for a moment last evening as Duke Coach Mike Krzyzewski broke the all time NCAA mark for wins.  It was the perfect stage for such a feat in the famed Madison Square Garden where he was surrounded by 30 former players.  But his meeting with his long time mentor and friend, Bobby Knight capped it all off in grand fashion and in that moment Krzyzewski finally realized that he was living in a most "special" moment.
Krzyzewski is at the top of the mountain this morning and depending on your rooting interest you feel either nirvana, respect or disgust.  As I walked into the local convenience store this morning, wearing a Duke t-shirt before heading to the gym, the color itself evoked comments. "He did it last night didn't he.  I know you're happy," said one lady.  Before I could answer, her 20 something year old son chimed in with "He aint done nothing!  Carolina is number one this year and nobody is going to beat them."
You see, if you are a college hoops fan there is no avoiding the incredible accomplishment of 903 wins and counting.  Even the Kansas and Kentucky fans bore witness to history and their comments were as varied as one could imagine.  In a sense, it is a bit surreal to realize that the team I cover and their coach has been so outrageously successful.  If I started to spout off numbers, you would be reading for a good long time, so if you want a complete breakdown of that visit GoDuke.com.
What I want to speak  of is how Krzyzewski has touched so many lives.  First there are his many former players, a star studded bunch who are a part of the Duke Family.  And man, how that family has grown since he stepped onto the Duke Campus in 1981.  You see, once you play for Krzyzewski, you are part of his famly for life and his door remains open to pretty much each and every one.  The stories alone with his former players are endless.
But Krzyzewski has touched the lives of many Duke fans as well and that fan base has grown significantly since he began his record tear.  On our twitter and Facebook sites, it is clear to see the adoration.  I mean, you can just feel the passion as one tries to explain what he has ment to them and their lives.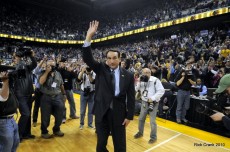 One BDN Premium member stated, "He's given me something to be a part of that's so special. I didn't go to Duke - I CHOSE to be a Duke fan, in great part because of that man and what he stands for. I really can't imagine my life without Duke Basketball being the most important "other thing", excluding only family, spiritual beliefs.
"Duke has helped me through rough times - just who they are which is a reflection of him. In 1996 I broke my neck in a bad car wreck. A few years later, I was going to attend some therapy down in Miami at a big center for spinal cord injury. My parents rented a car and we were going to drive down from NY. Knowing what Duke Basketball and Coach K means to me, my parents decided the first stop on the way would be Duke. I just wanted to see CIS . When we left NY to drive down we left one of my wheels to my wheelchair on the driveway by mistake. We drove all the way down to North Carolina, parked right in front of CIS, went to get me out of the car and found out we had a missing wheel. UGH!!!! So, one of these I will finally get get down there again and see CIS. But, Coach's philosophy, toughness, passion, old school grit, have taught me a lot" said another member.
A 1972 Duke graduate added, "I have really enjoyed the last 30 years. I have lived in Kansas practicing cancer med since 84 and his accomplishments helped me put my own life in perspective, someone said that when we die we can't take anything with us but judge our lives by did we make a difference and Coach K has made a difference."
Another one of our members said,  "Coach K brings distinction and grace to a program which has brought an infinite amount of pleasure and pride to so many of us.  I've been a fan for longer than most of you have been alive (Class of '54, fan since '39), and being so has brought joy and satisfaction to me consistently through the years."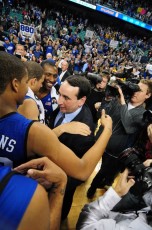 A coach who is a BDN Premium member said,  "He taught me how to run a program the right way and get kids to trust me and get the most out of them. Most of all through watching and following the program for over 15 years I have learned how to be a professional."
And others spoke of how he helped them selflessly, "I have tried to watch a lot of the things he does and how he carries himself and tried to carry that over to my coaching.  There is no one better to emulate.  Back in 2003 when I was in college I very tragically and suddenly lost my older brother and was devastated.  The county administrator in the county where I live was actually in Coach K's graduating class at West Point and they know each other well.  He knew I was a big Duke fan, and he sent message to Coach K and Coach sent me a personal letter along with a signed bio photo and a team photo signed by all players.  His team was leaving the next day to play at Michigan State in a battle of two top ten teams in the ACC/Big Ten Challenge, yet he still took the time to do that for someone he does not know."
There are many more stories on our Facebook page or in message board posts from members of the site and it is so clear to see that he has meant so much to so many.  I have yet to take time to really fully reflect on the accomplishment of 903 victories and kounting, but is is obvious that my respect for Coach Krzyzewski and the program is why this site, Blue Devil Nation exists.  One of the main purposes of this site was to cast a reflection on the program for there is so much to see and tell and we take pleasure in being the eyes for the fan nation.
Coach has meant a lot to me as well.  My life has centered around his and in that sense there is a 32 year connection.  His coaching philosophies helped me lead a team I coached to an undefeated season where my team emulated his system.  I cannot help but wonder had he retired early on or left for the NBA where my life would be and it is hard to imagine it at all.
Throughout the years, the shadow of Coach Krzyzewski has been with me through family deaths, good and bad times and well, just name any instance of possibilities in life and you get it.  Duke Basketball has proven to be one of the most stable things in my entire life and knowing it is always there has been akin to eternal sunshine.  The joy his teams have brought to me are so numerous that I realize how blessed I am to be connected and covering a juggernaut of a program.
But it is life's lessons where Coach Krzzyewski has had the biggest effect on my life and I am still learning from him to this day.  Don't get me wrong here, we don't share tea time nor talk like he does with his former players.  But he has still been a bit of an older brother, mentor like figure for me even at arms length.  And his lightest touch has meant a lot to me.  I hesitate to share some of the moments for they are personal and some would make me sound like a braggart but my brief dealings with him have certainly made a life long impression
Coach Krzyzewski said the Basketball God's have been good to him but in reality they've been good to every person who is in some way connected to the program be they fans, players or family.  I have been allowed to tag along for one helluva ride as a fan and the great thing is that the ride is still going full steam ahead.  But this accomplishment allowed many of us to reflect a bit even if we are overwhelmed to the point we stumble about trying to describe our feelings.
I think I speak for the entire Blue Devil Nation in saying congratulations and thanks to Coach Mike Krzyzewski.  You mean a lot to us coach and there is much love for you bringing so much joy into our lives.  In ending, being a former military guy myself, I want to stand at attention and pop a sincere salute coaches way and say, thank you for giving my life more meaning than it could have ever had without you at Duke.