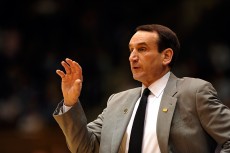 Game 3 * State Farm Champions Challenge
[6 AP / 6 Coaches] Duke (2-0) vs. Michigan State (0-1)
Tuesday, November 15, 2011 * 7:00 p.m. * ESPN
The Opening Tip
* Duke (2-0) faces Michigan State (0-1) on Tuesday, Nov. 14 at Madison Square Garden in the first game of the State Farm Champions Challenge. Tipoff is set for 7:00 p.m. (EST).
* The game is being televised by ESPN with Dan Shulman (play-by-play), Bob Knight (analyst), Jay Bilas (analyst) and Andy Katz (sideline) calling the action.
* Duke is ranked No. 6 in the AP Poll and No. 6 in the ESPN/USA Today Coaches Poll. Michigan State is unranked in both polls.
* Duke will be playing its third game in a five-day span on Tuesday.
* The head coaches (Mike Krzyzewski and Tom Izzo) in Tuesday's game have combined for 1,285 wins, 17 Final Four appearances and five National Championships.
* Coach K enters the contest tied with Bob Knight as the winningest coach in NCAA history.
Duke-Michigan State Series
* Duke leads the all-time series 6-2, with Krzyzewski holding a 6-1 mark against Michigan State.
* The two teams have met five previous times at a neutral site with Duke holding a 3-2 edge in those contests.
* Duke and Michigan State have met three times in NCAA Tournament action. The Blue Devils are 2-1 against the Spartans in tournament action.
* In the last meeting between the two schools, Duke posted an 84-79 win over Michigan State on Dec. 1, 2010 in the ACC/Big Ten Challenge at Cameron Indoor Stadium.
* Mason Plumlee had 10 points, 10 rebounds and five steals in last season's win over Michigan State. Plumlee collected seven of his 10 rebounds on the offensive end of the floor.
* Five of the eight games in the all-time series have been decided by 10 points or less.
Numbers Game
* Mike Krzyzewski is one win shy of passing Bob Knight as the winningest coach in NCAA Division I history.
* The Blue Devils have won 25 of their last 27 non-conference contests. Duke is 53-6 in non-league games since the start of the 2008-09 season.
* Duke has won 30 consecutive games in November, dating back to a 73-62 loss to Marquette in the championship game of the 2006 CBE Classic. The Blue Devils are 110-10 all-time in the month of November under Coach K.
* Duke is 98-28 all-time when ranked No. 6 in the AP poll. The Blue Devils have won five straight games when ranked sixth overall.
* The Blue Devils have won three straight games against Big Ten opponents. Duke is 65-25 all-time against teams currently in the Big Ten, including a 47-15 mark under Coach K.
* Duke is 30-2 in neutral site contests since the start of the 2008-09 season. The Blue Devils have won one NCAA Championship, three ACC titles and three in-season tournaments in that span.
* The Blue Devils have won 11 consecutive non-postseason (ACC & NCAA Tournaments excluded) neutral site contests.
* Seth Curry is 6-of-9 from three-point range this season and now has 70 three-point field goals in 39 games a Blue Devil. He is shooting 44.9 (70-of-156) percent from behind the three-point arc in his Duke career.
* Duke's upperclass post rotation of Miles Plumlee, Ryan Kelly and Mason Plumlee is averaging 36.0 points and 24.0 rebounds per game this season. The trio combined to average 18.6 points and 17.0 rebounds per game a year ago.
* Mason Plumlee is averaging 14.0 points and 9.8 rebounds in Duke's last four contests, including exhbition games against Bellarmine and Shaw. The junior forward is 26-of-32 (.813) from the field in that span.
* Duke reserves are averaging 31.5 points per game with Ryan Kelly leading the way at 14.5 ppg. The Blue Devils have received four double-figure scoring efforts off the bench this season and had a season-best 41 bench points against Presbyterian.
* Freshman Austin Rivers leads the Blue Devils in scoring (15.5 ppg.) and steals (2.5 spg.), while also ranking second in assists (3.5 apg.).
* Five Blue Devils (Seth Curry, Mason Plumlee, Austin Rivers, Miles Plumlee and Ryan Kelly) are averaging 7-10 shots per game. Curry is attempting a team-high 9.5 shots per contest.
* Duke is shooting 48.6 percent (17-of-35) from three-point range through two games. Seth Curry, Austin Rivers, Tyler Thornton and Quinn Cook have eached knocked down two or more three-pointers in a game this season.