Andrew slips into 1st place with an impressive 8-2 week 10, including correctly picking LSU over Alabama in the marquee match-up. This week, BDN welcomes in Mike Kline of Duke Sports Blog to pick against our staff.
1. Andrew
2. Bob -1
3. Patrick -4
T4. Mark -6
T4. Guest -6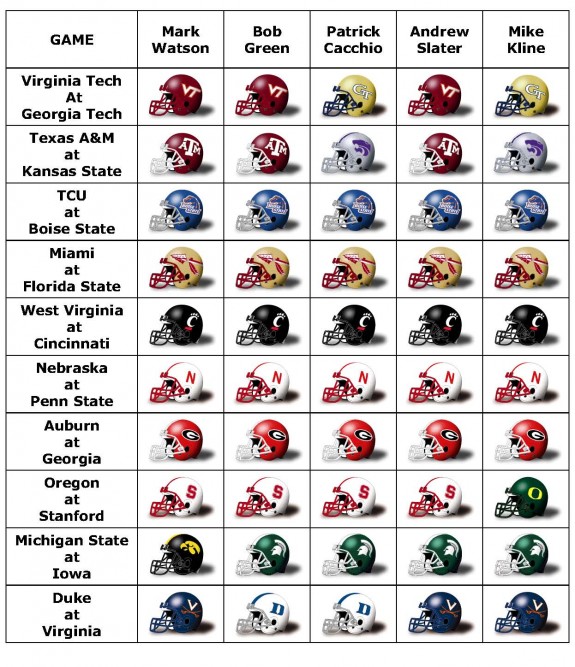 Mark - The Blue Devils have been searching for the elusive win and they've won three straight over Virginia. That said, the Wahoo's are licking their chops and have a bowl game in their sights and they will have their ears pinned back. No way this game is 55-47 like last season. Duke plays them close but falls just short. Virginia 31, Duke 27
Andrew - A week after giving up 266 yards and four touchdowns on the ground against Miami, the Blue Devils will take on a UVA team averaging 190 rushing yards. Mike London has done a solid job of turning around UVA and the Cavaliers are now bowl-eligible for the first time in four years, but they will look to end a three-game losing streak to Duke this weekend in Charlottesville. The player to watch for the Cavs is junior tailback Perry Jones, who is the focal point of their potent rushing attack. For Duke, they, simply put, need to need to play with more personal pride on defense and execute on offense. For Coach Cutcliffe's sake, it's imperative that he demonstrates that he hasn't lost this team. Virginia 28, Duke 20
Patrick - Matt Daniels has never lost to UVA. Sean Renfree has never lost to UVA. Coach Cutcliffe is 3-0 against UVA since arriving in Durham. Coming off one of their most disappointing performances of the Cutcliffe era, Duke needs a win in the worst way. Expect the Blue Devils to put together a much improved effort against a bowl-bound Virginia team. At 6-3, the Wahoos have been one of the biggest surprises in the ACC this season, and they'll certainly be gunning for the Blue Devils after 3 straight losses in the rivalry. There are few instances where history and karma seem to be on the Blue Devils' side, but this may be one of them. Duke seems to have the Cavaliers' number, and they come into this game with nothing to lose, in desperate need of a win. Duke 24, Virginia 20
Bob - Duke has won the last three games against Virginia, but when the teams kick it off on Saturday afternoon the 6-3 Cavaliers will be an eight and one-half points favorite. Virginia has won four of their last five games, while the 3-6 Blue Devils have lost four games in a row. The two teams have had one common opponent this season, Miami. Virginia defeated Miami 28-21, while Miami pounded Duke 49-14.
In order for Duke to stretch their winning streak over Virginia to four games, they must find a way to put together a complete 60 minutes of football. The Blue Devils have been inconsistent all season playing inspired for stretches of games but playing flat for stretches as well. Moreover, Duke must prevent Virginia from scoring on explosive plays such as Chris Givens 66 yard touchdown reception that was the difference in the loss to Wake Forest or the three 50+ yard pass completions Florida States' E.J. Manuel completed in the 1st Quarter against the Blue Devils.
Duke has their back against the wall and must win out to finish 6-6 and gain bowl eligibility. Leaders on both sides of the ball will need to step up and show the youngsters how to win. I believe they will rise up to the challenge and win the game on a last minute Will Snyderwine field goal. Duke 25, Virginia 23
Mike Kline - It is funny to say that the Cavaliers are due a victory against Duke but they really are. I would really like to pick Duke in this game but given the fact that the Cavs have been playing much better this season than any of the previous three season when the Blue Devils won, and they are at home, I'm going with Virginia. That isn't to say Duke can't win if they can put together a complete game on both sides of the ball. The Blue Devils have been so inconsistent this year on defense and the offense has taken a few steps backward. If the Duke offense were clicking I'd go with the Blue Devils in this game, but their struggles once again make me think they won't score enough to win an otherwise close match up. Virginia 28, Duke 20