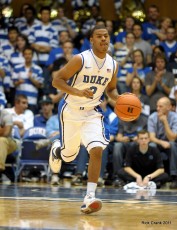 DURHAM, N.C. -- Duke freshman Quinn Cook earned ACC Rookie of the Week honors for the first time this season after scoring a career-best 14 points in last Monday's 90-63 win over UNC Greensboro. Cook becomes the second Blue Devil freshman honored with the weekly award this season.
After a scoreless first half against the Spartans, the Hyattsville, Md., freshman guard went 6-of-6 from the field (1.000) with a pair of three-pointers in the second half. Cook added two assists and one steal in only 18 minutes of action for the seventh-ranked Blue Devils.
Cook now has two double-figure scoring games this season while averaging 4.1 points, 0.9 rebounds and 1.1 assists per game. He is shooting 46.7 percent (14-of-30) from the field and 80.0 percent (12-of-15) from the free throw line.
Duke returns to action on Friday, Dec. 30 with a 7pm home contest against Western Michigan. The game will be televised by ESPN2 as the Blue Devil look to extend their home winning streak to 42 consecutive games