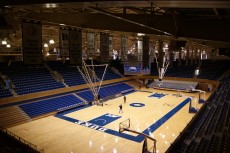 • Game 29 •
[5 AP / 4 Coaches] Duke (24-4, 11-2) vs. Virginia Tech (15-13, 4-9)
Saturday, February 25, 2012 • 12:00 p.m. • ACC Network
The Opening Tip
• Duke (24-4, 11-2) faces Virginia Tech in an ACC home contest on Saturday, Feb. 25 at Cameron Indoor Stadium. Tipoff is set for 12:00 p.m.
• Tim Brandt (play-by-play) and Cory Alexander (analyst) will call the game for the ACC Network.
• Duke is ranked No. 5 in the AP Poll and No. 4 in the ESPN/USA Today Coaches Poll. The Blue Devils are 68-24 when ranked No. 5 in the AP Poll. Virginia Tech is not ranked in either poll.
• Duke is the only team in the NCAA to rank in the top 5 in RPI, Strength of Schedule as well as the AP and ESPN/USA Today Coaches polls. Duke has three wins against top 10 teams in the RPI.
• The Blue Devils are 12-2 at home this season with both losses coming against ACC teams. Duke has not lost more than two games on Coach K Court since the 2006-07 season.
• With Thursday's win at Florida State, Duke has assumed first place in the ACC standings.
Duke-Virginia Tech Series
• Duke and Virginia Tech have met 46 times heading into Saturday's game with the first meeting between the two schools coming on Feb. 16, 1912.
• The Blue Devils lead the all-time series 38-8, including a 9-3 ledger since the Hokies joined the ACC.
• Duke won the previous meeting this season 75-60 in Blacksburg, Va., thanks to an 18-point effort from freshman Austin Rivers. Duke has won two in a row in the series and six of the last seven meetings.
• The Blue Devils are 15-1 against the Hokies in Cameron Indoor Stadium.
• Mike Krzyzewski is 9-3 at Duke against the Hokies, including a 4-1 record in Cameron Indoor Stadium.
• Six of Duke's last seven wins over Virginia Tech have been by at least 12 points. Duke's last three losses to Virginia Tech have been by no more than four points.
Numbers Game
l Duke has been ranked in the top 10 of the AP Poll for 90 straight weeks, the third-longest streak in NCAA history.
l The Blue Devils are 13-3 on the year in games decided by 10 points or less. The Blue Devils have six wins in ACC play by less than 10 points. Duke's 13 wins by 10 points or less are tied for the sixth most in school history.
l Duke averages 25.5 points per game off the bench with 11 games with 30 or more bench points. The Blue Devils have had a double-digit scorer off the bench in 21 of 28 games this season.
l Only four Duke teams have won their first seven ACC road games. The Blue Devils are 7-0 in ACC road games, joining the 2005-06, 1999-2000 and 1998-99 teams as the only groups to win their first seven ACC road contests. Duke has not gone undefeated in ACC road games since 1999-2000.
l Duke has hit at least eight three-pointers in seven straight games. During that streak, the Blue Devils are shooting 37.8 percent from three-point range while averaging 30.4 ppg. from three-pointers.
l Andre Dawkins leads the ACC with a .422 three-point shooting percentage. Dawkins is 65-of-154 from beyond the arc this season and ranks third in made three-pointers.
l Duke has a +15.7 scoring margin in Cameron Indoor Stadium and a +6.6 rebounding margin at home. The Blue Devils score an average of 82.9 points per game on Coach K Court while holding opponents to 67.2 points per game. Duke has outrebounded nine of 14 opponents at home.
l Duke's perimeter defense has improved significantly over the last 13 games. Duke has held those 13 opponents to a .277 shooting percentage from beyond the arc and allowed just three of those teams to shoot better than .350 from three-point range.
l Austin Rivers leads Duke in scoring at 15.2 points per game and has reached double figures in 24 contests. He is attempting to become just the third Duke freshman to lead the team in scoring.
l Miles Plumlee is averaging 9.0 points and 11.5 rebounds over his last four games. He has two double-figure rebounding games and two double-figure scoring games during that span, including a Coach K-era record 22 boards against Maryland.
l Seth Curry has made 16 consecutive free throws and 35 of his last 38 free throw attempts. He ranks second in the ACC with an .884 free throw percentage, which would rank as the seventh highest single-season mark in school history.
l Duke has had at least four double-figure scorers in 16 games this season. The Blue Devils are 15-1 when at least four players score 10 points.
l Seven Duke players have started at least 10 games this season, tying the school record. Duke last had seven players with at least 10 starts in 2008-09.