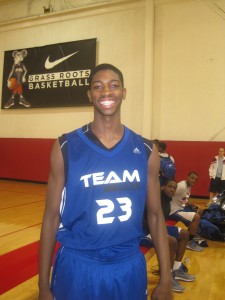 "Duke is definitely a great school and so I definitely have to take a close look at them. Coach K is a great guy and Coach Collins is a great guy. I've enjoyed talking with both of them and it's just been great and I look forward to learning more about the school."
-McDonald's All-American  Amile Jefferson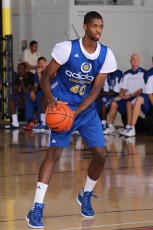 This weekend will be the third time that 6'9" forward Amile Jefferson, who is HoopScoop's #2 senior in the country, visits Duke. The versatile big man with a seven-foot wingspan first came to Duke as one of two sophomores invited Duke's Elite Camp over two years ago and came back as a junior to the Countdown to Craziness for the unveiling of Duke's fourth National Championship banner, but this will be his first Carolina game, which takes the passion of the Duke fan base to another level. This will be his first time visiting Duke University since receiving an offer from Coach Mike Krzyzewski in January.
Ten days ago, the cerebral Philadelphia area forward won his fourth consecutive Pennsylvania Independent Schools State Title for the Friends School. Despite tweaking his ankle, Amile out-dueled future Villanova big man 6'10" Daniel Ochefu to go out with a state title, finishing with fourteen points, ten rebounds, and two assists in the Title game. Jefferson averaged twenty-one points, ten rebounds, and three blocks, while playing against the most competitive schedule of his high school career, including playing in the City of Palms and the HoopHall Classic.
On Saturday, Amile Jefferson will be joined at the UNC game by fellow McDonald's All-Americans Rasheed Sulaimon, a Duke commitment and vocal supporter, and Shabazz Muhammad, who was his teammate this summer for Adidas Nations. It will be a big opportunity for the staff to close out its 2012 class and for the blessed recruits to take in college basketball's greatest rivalry.