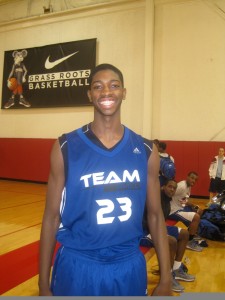 Duke landed its second commitment of the 2012 class when Friends Central forward Amile Jefferson pledged to the Blue Devils. Jefferson, who was a McDonald's All-American this March, will bring length, skill around the basket, a good basketball IQ, and versatility to the Duke frontline. Although the courtship was quite lengthy, it heated up this January when Coach Krzyzewski extended a scholarship offer to the cerebral big man.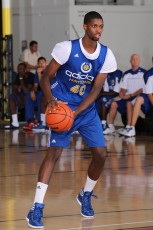 Jefferson, who recently won his fourth consecutive Pennsylvania Independent Schools State Title for his suburban Philadelphia school, visited Duke for a third time on March 3 and 4 with his dad, Malcolm Musgrove. Jefferson has been on Duke's radar for several years. Before his sophomore year at Friends' Central, an academically challenging Quaker school in Wynnewood,  PA, Amile was one of two rising sophomores who attended Duke's Elite Camp. In the autumn of his junior year, Amile watched Duke unveil its fourth National Championship banner at the Countdown to Craziness.
The forward with a seven foot wingspan also considered N.C. State, Villanova, Ohio State, Kentucky, and Temple. Amile Jefferson was recruited by Duke Coaches Mike Krzyzewski and Chris Collins. Jefferson is Duke's first Philadelphia player since current Charlotte Bobcat Gerald Henderson suited up for the Blue Devils.
On March 28, he joined fellow Blue Devil incoming freshman Rasheed Sulaimon at the United Center in Chicago for the McDonald's All-American game. In fourteen minutes, Jefferon tallied eight points, three rebounds, two steals, and an assist for the East team. This April, the Philadelphian scored twenty-six points and grabbed five rebounds, earning the MVP of the Derby Classic at Freedom Hall in Louisville, KY.
For the second consecutive year, Jefferson won Pennsylvania's Gatorade Player of the Year and was named Pennsylvania's Class AA Player of the Year. Over the course of his career with the Phoenix of Friends' Central, alma mater of former Syracuse All-American Hakeem Warrick, Amile Jefferson scored over fifteen hundred points, grabbed over eight hundred rebounds, and swatted away nearly two hundred shots.
6'8" Amile Jefferson averaged twenty points, ten rebounds, and three blocks this year en route to a 21-5 record for his Wynnewood, Pennsylvania school. Jefferson provides Duke with a coveted second multi-year player with long-term pro potential in the 2012 class. To this point, Jefferson, the second highest-rated senior in the class of 2012 by HoopScoop,  has largely been able to overcome having no strength regimen, but in a prior interview with me, Amile has said he's anxious to start a college strength and conditioning program in order to make his game more college-ready.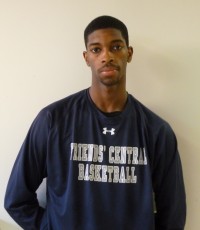 McDonald's All-American voter and veteran scout Tom Konchalski of HSBI said of Amile Jefferson, "He's a young colt who's waiting for his body to blossom, but he has a really good feel for the game. Right now, he's probably more of a 4/3 and, obviously, he's going to have get stronger, but, in the ACC, it's not as if he's going to the Big Ten or the Big East, which is even more of a physical conference. In terms of style of play, if he were to go to Duke, that would be a good pick, but he's still got to get stronger in order to be able to play both sides of the court. He's a guy who has some perimeter skills..not an explosive athlete, but, when he starts to working to improve himself physically, his legs will get stronger. He will get quicker and he'll get more lift off the ground. He's a guy who has a good feel for the lane and the baseline. He's almost like an old-time player around the lane. He knows how to finish without going above the rim or jumping over people. He knows how to use his body to get between the defender and the ball. He knows how to shield the ball and reverse it. He has a really good feel for the game and he's a really good kid. He's also a good student."