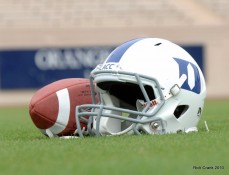 Welcome back to another edition of Friday Night Lights. This week Blue Devil Nation starts its roundup in Florida:
Parker Boehme threw four touchdown passes and rushed for a fifth as Sandalwood defeated Wolfson 41-12. Boehme completed 27 of 44 for 275 yards. This video clip includes one of Boehme's touchdown passes. The Sandalwood highlights start at the 3:00 mark.
Johnell Barnes caught a 43 yard touchdown pass in Dunbar's 48-34 win over Lehigh in Fort Myers, Florida.
Fort Myers High School took to the road on Friday night, traveling to Naples to defeat Golden Gate High 37-23. Quarterback T.J. Douglas ran for 77 yards and three touchdowns.
Next up is the action which took place out on the West Coast:
In La Puenta, California, Darren Andrews rushed for 78 yards including a 40-yard run on Bishop Amat's first play from scrimmage in a 34-24 victory over La Mirada.
Joseph Ajeigbe rushed nine times for 148 yards and two touchdowns as Norco routed Rancho Cucamonga Etiwanda 42-13. Ajeigbe scored on a 25-yard sweep in the 1st quarter and a 33-yard run in the 4th quarter.
After the game, Ajeigbe commented, "We are doing a good job of spreading the ball out more and utilizing all our weapons. Coach Gerhart scheduled good competition in pre-season so we can prepare for league play. The defense is doing a good job as well."
Moving down to Georgia, Walker defeated North Cobb Christian 54-14. Walker defensive lineman Mike Ramsay told Blue Devil Nation, "Our game went great! We won 54-14. I recovered a fumble early in the game. We picked off a pass late in the 1st quarter and ran it back to go up 14-0. Our RB ran for 277 yards and 4 touchdowns."
In Texas, Mansfield High beat Keller 35-0. Mansfield offensive lineman Austin Davis stated, " We won 35 to 0! We dominated and rushed for 400 yards! Our defense did great. We did really good all around. I played a good game and muscled my man around! Go Duke!"
Finally, we finish this week's edition with a look at action in Virginia:
Jake Kite caught touchdown passes of 68 and 16 yards, but Hidden Valley fell to Lord Botetourt 22-14. Overall, Kite caught four passes for 105 yards. The 68 yard touchdown is included in these video highlights.