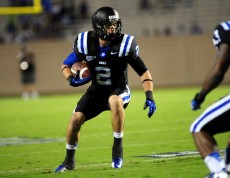 Coming into the 2012-13 football season and considering the schedule, it was clear that the Duke Blue Devils needed to pile up some wins early in the season in order to have any hopes for a bowl invite. So far, so good for Coach Cutcliffe and his troops, currently in their fifth season under his leadership. Duke needed to take care of business against three teams they were favored to defeat: Florida International, North Carolina Central and Memphis. They did so against all three, and now the Blue Devils stand 3-1, with the only loss coming at the hands of the #8 team in the nation, Stanford. But the three Duke wins came against teams with a combined 3-9 record, which makes one wonder where the program actually stands, despite that healthy-looking 3-1 record.
Now we'll find out how far the Blue Devils have come as the ACC schedule begins, with Wake Forest and Virginia up first. It's no secret that Duke has struggled mightily with the Deacons. Despite a number of games being close, Wake has dominated Duke in terms of wins and losses. At times, Duke has seemed to be snakebitten as they play Wake Forest close, only to ultimately fall short.
The question is whether Duke can shake free from habit against Wake and get a victory, and in the process keep their bowl hopes alive. Kickoff is Saturday at 12:30 in Winston-Salem. The Blue Devils need to do more than just be competitive. They need to pass the eyeball test, and show everyone that they are serious. While Duke's team has obviously improved, and the program has upgraded its recruiting and its facilities, they've simply got to start winning games like this one, not only for the sake of this year's team but to help solidify the fan base and create excitement again around this program going forward. Quite simply, Duke's program is at the doorstep of turning the corner, finally.
But once again, Wake stands in the way. It is no secret that Duke has looked towards the Wake Forest program as a model on how to compete in the ACC. Many in Duke media circles have been pointing to this game all summer long as a potential tipping point game if the Devils could come in at 3-1. They have taken care of business to this point. This is a most critical game for Duke, one which many feel will make or break their bowl dreams, as the Blue Devils must contend with a brutal schedule the rest of the way. Now, does this mean this is the biggest game in Coach Cut's Duke career to date?
If this is not the biggest game, it is close. If you've ever had the luxury to enter Coach Cutcliffe's office as I have, you will see some game balls on the shelves. Each ball represents a big win in his tenure. The first is from the 2008 victory over James Madison, which was his opening day win in his first campaign in Durham; another is the ball from the win three weeks later over Virginia, which was Duke's first ACC victory since 2004; and there is a game ball from the 2009 triumph over N.C. State, which was the program's first road win over an ACC team since 2003. There is little doubt that breaking the Deacons' 12-game winning streak over Duke would provide another milestone win (and another football for display) and further evidence of a program finally headed in the right direction.
A lot of questions will be answered in a game where Duke simply needs to make one more big play than its opponent. This ability has eluded them to date, but they're going to need it against the Deacons, a team which was throttled by Florida State but defeated North Carolina. Make no mistake, Wake Forest is clearly the second most talented team Duke will have faced thus far this season, and Wake will remain confident that they can always find a way to come out with a win until the Blue Devils decide they've had enough. Saturday would be a good day to send that message.
The table has been set for the Blue Devils. With a win they can not only start a winning streak of their own, but they can further distance the program from the struggles of the past, and help their fan base do the same. I expect two offensive-minded teams to be on the field of battle for longer than the normally allotted television time and the game will (as usual) likely be a back-and-forth affair. The Blue Devils simply need to make that one crucial play this go-round.
So again, is this the biggest game for Coach Cutcliffe since he's been at Duke? You can make the argument either way. But if it's not, it's close.