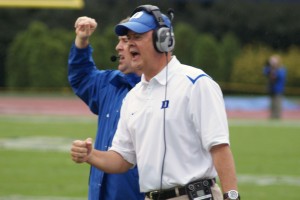 Virginia at Duke
3:00 PM ET
Saturday, October 6
Durham, NC
Iron Dukes Day
Military Appreciation Day
Hispanic Heritage Day
Youth Football Team Day
TV: Regional Sports Network (Fox Sports Carolinas, check listings)
Radio: Blue Devil IMG Sports Network, Sirius 134, XM 192
Duke: 4-1 (1-0 ACC), beat Wake Forest, 34-27
Virginia: 2-3 (0-1 ACC), lost to Louisiana Tech, 38-44
Last year: Virginia defeated Duke, 31-21
DUKE INJURIES
PROBABLE: LB David Helton (leg)
QUESTIONABLE: CB Lee Butler (lower body), QB Sean Renfree (arm), DT Jamal Wallace (lower body)
OUT: CB Jared Boyd (leg), S Brandon Braxton (upper body), LB Kelby Brown (leg), NG Jamal Bruce (foot), TE Braxton Deaver (leg), DE Justin Foxx (hand), S Chris Tavarez (leg)
OUT FOR SEASON: TE Jack Farrell (leg), WR Blair Holliday, DE Allen Jackson (shoulder), S Corbin McCarthy (shoulder), S Taylor Sowell (leg)
VIRGINIA INJURIES
PROBABLE: Oday Aboushi (upper extremity), Will Hill (medical), Brandon Phelps (upper extremity)
DOUBTFUL: Tim Smith (lower extremity)
OUT: Billy Schautz (lower extremity), Buddy Ruff (medical), Darius Lee (lower extremity)
OUT FOR SEASON: Pablo Alvarez, Adam Caplinger, Marco Jones, David Marrs, Mario Nixon
HOW DUKE CAN WIN
A healthy Sean Renfree, officially a game-time decision, would go a long way to helping the Blue Devils get a win on Saturday. Renfree and the Blue Devil receivers should have been salivating this week as they watched film on the young and porous Virginia secondary. The Blue Devils have to capitalize on their strength through the air and the weakness of the Wahoo defensive backs. Virginia ranks 110th in the country in sacks and 118th in tackles for loss, which means that the Blue Devil offensive line should be able to provide plenty of time for plays to develop downfield. Mix in a few big runs by Thompson, Snead, and Duncan, and this could be another opportunity for the Blue Devils to eclipse the 40 point mark at home.
Defensively for Duke, Virginia has moved the ball through the air, but has been inconsistent on the ground, despite a big offensive line and a veteran running back in Perry Jones. I think that Duke has to trust their defensive backs to continue to make plays, and focus on keeping Jones in check. With a QB making his first college start and an offense that has thrown 8 interceptions and lost 5 fumbles through the first 5 games, the Blue Devils simply have to come up with a few turnovers. As has been the case all season, the injury-depleted Blue Devil defense may give up points and yards, but someone will have to step up to make the plays to win the game late. If they can give the Duke offense an extra possession or two, the Blue Devils should be able to come away with a victory.
HOW DUKE CAN LOSE
Given the amount of talent and experience that Virginia lost from their 2011 team, Duke enters the 2012 matchup with a slight edge in talent and experience compared to the Cavaliers. In other words, if Duke plays well, they should win, but there are three primary ways Duke can lose this game.
First, given the recent history of this rivalry, Duke can become too emotional and lose their focus. If the Blue Devils are more interested in their egos and exacting revenge for last year's mistreatment, they may struggle to execute. Intensity in this game will be important, but it must be channeled appropriately.
The opposite is also true. The Blue Devils, at 4-1 and 3-0 at home, are feeling good about themselves after a big road win at Wake Forest, and look across the field at an opponent who has dropped three games in a row. Duke cannot come into this game expecting Virginia to hand the game to them. When the Blue Devils traveled to Stanford, we saw firsthand what a little complacency can do to this Duke team. This game is every bit as important to UVA's season as it is to the Blue Devils. It will be an intense, hard-hitting battle, and the Blue Devils will have to play with a high level of intensity for a full 60 minutes Saturday.
The final way Duke can lose this game comes down to fundamentals. In their win against Wake Forest, Duke managed to win the turnover battle. They have to continue to take care of the football on offense, and find ways to force Phillips Sims into turnovers in his first college start. If Anthony Boone is forced into action in place of Renfree, he will have to be smart with the football, but also not afraid to challenge the Virginia secondary. Duke's defense has to be prepared to face a big and strong Virginia offensive line, and a running back who has given them trouble throughout his career in Perry Jones. North Carolina native Kevin Parks has emerged as another weapon in the Cavalier backfield, and Phillip Sims can be dangerous on the ground as well. Virginia has a number of  wide receivers capable of making big plays, including Tim Smith, whom Duke fans may remember from his shove of a Duke coach on the sideline in Charlottesville last November.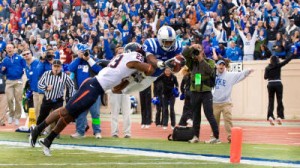 WHY DUKE WILL WIN
Duke and Virginia are by no means each other's biggest rival, but they have played a number of high intensity games over the past few years. Coach Cutcliffe is 3-1 against the Cavaliers, and after the disrespect shown by Virginia's Chase Minnifield, Tim Smith, and even Mike London last year, expect to see a heated battle on Saturday. The Blue Devils will come out with a lot of emotion and look to reclaim their dominance over the struggling Wahoos.
Given how important this game is for the Blue Devils, it's hard to imagine that Sean Renfree will not play, especially if his MRI showed no significant injury as has been reported. I think the Duke staff has been playing a little coy with Renfree's status, and I expect to see him out there on Saturday, though certainly not at 100%. Conner Vernon will become the ACC's all-time leader in receptions with his first catch on Saturday, and he'll put up big numbers against a team that has taken some shots at him throughout his career. Jamison Crowder and Desmond Scott will present even more troubles for the struggling Virginia secondary. The depleted Duke secondary will also give up its share of yards, but will again come up with the key turnover that gives the Blue Devils momentum. This game looks like it will be another intense shootout, much like Virginia's last trip to Durham, which means that the impressive play of Will Monday and Ross Martin on special teams just might be the difference. Duke 38, Virginia 35