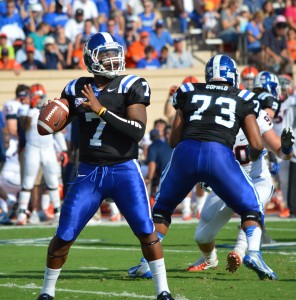 DURHAM - The Duke Blue Devils are now one game away from gaining bowl eligibility for the first time since 1994, as they dominated the second half in their 42-17 victory over Virginia. With redshirt-senior QB Sean Renfree sidelined with an elbow injury suffered last week at Wake Forest, redshirt-sophomore QB Anthony Boone made his first career start and did not disappoint, finishing 18/31 for 212 yards and 4 touchdowns. In the win, Duke senior wide receiver Conner Vernon became the ACC's all-time receptions leader, finishing the day with 7 catches for 93 yards and 2 touchdowns.
After a fast start that saw the Blue Devils score quickly on their first two possessions, Duke found themselves trailing at 17-14 at halftime. The second half, however, was all Duke. The Blue Devil defense held the Cavaliers to just 2 yards rushing in the entire second half, while shutting them out on the scoreboard. The Duke offense took over from there, as Juwan Thompson scored two second half TDs, and freshman Jela Duncan added his second career TD. Duke finished the game with 394 yards of total offense, balanced between 212 passing yards and 182 yards on the ground.
Walt Canty led all players with 14 tackles, including a crucial stop on 4th and 1 in the 3rd quarter. Jordon Byas added 11 tackles, and freshman Dwayne Norman, filling in for the injured Brandon Braxton, finished with 8 tackles. Tony Foster, who saw increased time in place of another injured Blue Devil in Lee Butler, came away with the game's first turnover with a first quarter interception of Virginia QB Phillip Sims. Fellow CB Ross Cockrell added an INT of his own in the second half. Virginia finished just 4/16 on 3rd down and 0/3 on 4th down for the day.
The Blue Devil players celebrated their victory with their fans after the game.