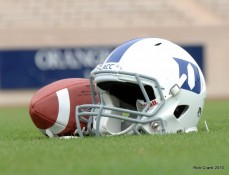 Welcome back Blue Devil faithful to another edition of Friday Night Lights, where Blue Devil Nation takes fans on a national tour from Georgia to California with stops in South Carolina, Alabama, Virginia and North Carolina as we cover high school action of Duke verbal commits and recruiting targets, complete with quotes from the players describing their gridiron performances.
Marietta, GA defensive tackle Mike Ramsay helped The Walker School to a 35-6 win over Mount Pisgah on Friday night. Ramsay described the game this way: "We played great. I had three sacks, three or four tackles for a loss, and a couple of other tackles. It was a good game." Walker improved to 5-0 for the first time in school history.
Wide Receiver Johnell Barnes caught a 23 yard touchdown pass as Ft. Myers (FL) Dunbar defeated North Fort Myers 34-9. Barnes stated after the game, "We were spreading the ball around a lot and I played quarterback a bit."
Defensive Back Breon Borders returned an interception 99 yards for a touchdown as Charlotte Statesville defeated North Iredell 48-0. Borders commented, "I had about four tackles and took a 99 yard interception to the house."
Defensive Back Evrett Edwards of Woodbridge (VA) caught four passes for 56 yards, including a 34 yard touchdown reception, but Woodbridge fell to Potomac 18-6. Edwards stated, "I had a touchdown and too many tackles to keep track of."
Southern Nash defeated Northern Nash 35-14. Quay Mann of Northern Nash was limited to action on the defense, "I don't have many stats other than a couple of tackles. They mainly ran the ball against us."
In Columbia, SC, Heathwood Hall defeated Pinewood Prep 34-19 to improve to 3-4 on the season. Heathwood Hall offensive lineman Gabe Brandner commented, "A lot of missed extra points! But it was a good win and I am proud of how we played."
In Roanoke, VA, Hidden Valley defeated Blacksburg 13-10. Safety Jake Kite of Hidden Valley stated, "It was a lot of turnovers for both teams."
Ft. Myers (FL) Quarterback T.J. Douglas was named Player-of-the-Week last week. Here is a video interview. Fort Myers matched up against Island Coast on Friday night in a game with playoff implications. The News-Press published a game preview which focused upon Douglas and Island Coast Quarterback Kurt Benkert.
Island Coast won the game 24-21 in overtime.
Dual threat Quarterback Parker Boehme ran for three touchdowns and passed for a fourth as Jacksonville (FL) Sandalwood defeated Mandarin 28-14.
In California, Norco dropped its second consecutive game, falling to Santiago 32-26. Norco running back Joseph Ajeigbe was stripped of the football at the one yard line on Norco's opening drive.
Class of 2014 action:
The Jacksonville Daily News named Josh Cabrera Player-of-the-Week and Cabrera showed why on Friday night with an 80 yard kick-off return for a touchdown to go along with an 18 yard touchdown reception as Northside blasted South Lenoir 35-3.
Kendall Hinton threw a touchdown pass as Southern Durham defeated Riverside 27-24.
Mobile, AL linebacker and verbal commit Zavier Carmichael intercepted a pass late in the 4th quarter as St. Paul's defeated Spanish Fort 31-21.
That's a wrap for the first week in October. Blue Devil Nation invites everyone back next week for another national tour of Friday night gridiron action. Until then, Rip 'em up, tear'em up! Give 'em hell, Duke!