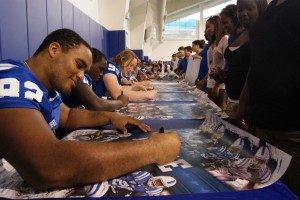 BDN caught up to Duke Defensive Lineman Sydney Sarmiento earlier this week to get his thoughts on the upcoming game with Clemson on Saturday in Wallace Wade Stadium.
You guys have a tough game this week against Clemson and their explosive athletes.  What are your initial thoughts on playing them.
It's a great team, you can't take anything away from them, a great team.  We are going to have our work cut out for us.
Duke did not get the results they wanted in the loss to Florida State.  How can the team bounce back from that kind of performance?
Just forget about what happened in the past and move on because Clemson will present new challenges to us we didn't see last week and we are going to have to improve on what we didn't do well this week.
Duke is already bowl eligible but still going for other honors.  Was last week a bit of a wake up call?
I feel like it was a big wake up and we have to get back to fundamentals and what we do well and stay on top of our game.
The defensive line has improved their play this season.  How do you impact the many younger players around you?
We have challenged ourselves this season unlike we did a year ago and that's one thing I am trying to do with the younger guys.  Like in the Virginia game where they were running all over us in the first half, we stepped up and stopped them in the second.
How much did it help for Duke Football to have great crowd support in the big win over UNC and is it important for the team that the students turn out in force again?
It was important and it surprised me during the game because that's the loudest it's been since I've been at Duke with the exception of maybe the Alabama game.  It was a great atmosphere that lifted me up to play even better and more.  It's more of a sense of pride at home and the five game winning streak is important but we understand we have our work cut out for us this week.