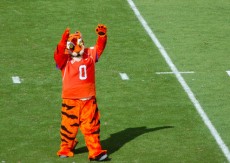 It's November prime-time football in Wallace Wade Stadium on Saturday night as Duke hosts the Clemson Tigers. Both the Blue Devils and Tigers remain in contention for ACC Division titles, and a win on Saturday night in Durham will only solidify that position. Thanks to the unbalanced ACC schedule, Duke and Clemson have not faced each other since 2008. To give us the inside look at this year's Clemson team, BDN welcomes in Greg Wallace of the Anderson Independent Mail. Greg is among the best at covering the Clemson beat, and his work can be found online at OrangeandWhite.com, as well as his Twitter page.
Under Head Coach Dabo Swinney, Clemson entered the 2012 season with big expectations. The Tigers sit at 7-1, with their lone loss coming against Atlantic Division rival Florida State. Riding a four-game winning streak after their loss, what is your assessment of the Tigers' season so far? What are the expectations for this team among the very loyal Clemson fan base?
Before the season, I projected Clemson at 10-2, so this group is right on track. After winning the program's first ACC title in 20 seasons, some fans won't be satisfied without another title this season, but unless Florida State slips up again, that won't happen. Still, there's reason to be excited, given that 63 of Clemson's 85 scholarship players are freshmen and sophomores. Junior DeAndre Hopkins has joined Sammy Watkins as one of the nation's top receivers, and junior quarterback Tajh Boyd has reduced his mistakes and improved his efficiency.
Brent Venables' defense struggled through the first half of the season but has shown signs of improvement recently. If Clemson can finish the regular season unblemished, including a win over rival South Carolina, the Tigers would surpass 2011's 10-4 record and be in the conversation for another BCS-level bowl. That'd be reason to be excited.
Led by Tajh Boyd, Sammy Watkins, DeAndre Hopkins, and Andre Ellington, Clemson's offense ranks 2nd in the ACC and 10th in the country. Their lowest point total of the season came in their opener against Auburn with 26 points. With this amount of talent at the skill positions, there may not be a way to stop the Clemson offense, but have opposing defense had any success in slowing it down? What advice would you give to an opposing defensive coordinator?
In the second half of last season, defenses started dropping eight defenders and making Boyd find an open man. He forced too many balls, throwing nine interceptions against nine touchdowns in the final six games. This season, a slimmer, smarter Boyd has been more of a factor in the run game which has improved his overall efficiency.
Florida State used press man coverage effectively against Watkins and Hopkins, but Clemson still put up 37 points – the Tigers have scored at least 37 points in their last seven games, the first ACC team to do that since Florida State in 1995. Stopping the Tigers' offense is very difficult; Boyd had an off day against Virginia Tech after the Hokies sacked him twice in the first three plays, throwing him off his rhythm. But often, it has been a matter of opposing defenses picking their poison.
Clemson's defense has struggled under new coordinator Brent Venables; the Tigers give up an average of 421 yards to opponents, including 183 yards on the ground. What has been the source of the defense's lack of success so far this year? Who are the primary playmakers for the Tiger defense?
The Tigers allowed an average of 523 yards of total offense and 37 points to their first three ACC foes, but they improved significantly over the past two weeks, holding Virginia Tech and Wake Forest to an average of 348 yards and 15 points. Their fundamentals and defensive line pressure have improved – Clemson had seven sacks in its first six games, and has seven in its last two. They're far from world-beaters – the secondary has struggled with tackling and is injury riddled, with juniors Martin Jenkins and Darius Robinson out with injuries and sophomore Bashaud Breeland slowed by an abdominal strain. And the defensive line needs more than the two sacks its lone upperclassman, senior defensive end Malliciah Goodman, has provided.
Senior "Will" linebacker Jonathan Willard has emerged as the top playmaker, with a team-leading 62 tackles, 5.5 tackles for loss and two sacks.
With the unbalanced schedule, Duke and Clemson haven't faced each other since 2008, which was Coach Cutcliffe's first year in Durham. How do the Tigers coaches and players feel they match up against Duke? How do you expect the game to unfold on Saturday in Durham?
Clemson's coaches and players have been highly complementary of Duke, especially since the Blue Devils are bowl-eligible for the first time since 1994. I think everyone expects a far more raucous atmosphere than the one Clemson saw in 2007, when the Tigers coasted to a 47-10 rout. While last week's 48-7 loss at Florida State might be an anomaly, I expect Clemson to be able to move the ball freely on the Blue Devils. If Clemson's defense can build on the last two weeks – especially if Sean Renfree is unable to play – it could be a long night for Duke. I expect the Blue Devils to be competitive early on, but Clemson should pull away in the second half for its eighth win of 2012.