An incredibly tough week last week for our pickers, as the Blue Devils fell flat in Tallahassee, and there were upsets across the board in the national games. Vinny Rey is making a charge to move out of last place, correctly picking 17/20 games over the last two weeks. It remains tight at the top in our overall race, with Andrew Slater and Patrick Cacchio holding a 1-game lead over Bob Green. With another tough slate of games this week, the contest is still up for grabs.
Here are this week's overall standings: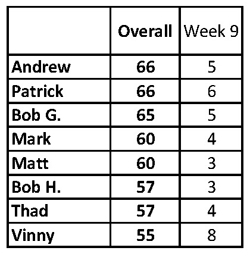 Two outstanding night games are on the schedule with National Championship implications, as Oregon travels to USC and Alabama invades Baton Rouge to take on The Hat and the Tigers.  The ACC race is tight, and with Georgia Tech at Maryland, Virginia at NC State, and Duke hosting Clemson, both the Atlantic and Coastal Divisions are still up for grabs. Can the Blue Devils pull off the upset against a top-10 opponent in primetime at Wallace Wade Stadium?
Here are this week's picks: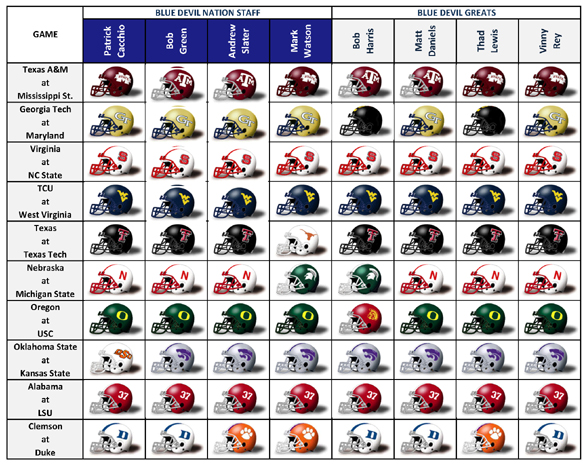 Mark Watson : The Tigers have too many explosive weapons for Duke to think upset here but stranger things have happened and Duke is undefeated at home.  Clemson 40 Duke 24
Patrick Cacchio: It's called Clemsoning. See it happen live Saturday night in Wallace Wade Stadium. Duke 34, Clemson 31
Bob Green: Coach Cutcliffe stated every portion of the team played poorly in the big loss at Florida State. In order to stay undefeated at Wallace Wade Stadium, Duke must execute near flawless football in all three phases of the game. On offense, Duke must establish the running game in order to set-up the play action pass. Clemson's secondary is vulnerable and the Blue Devils passing game will be able to rack up yards and points against the Tigers as long as the play calling does not become one dimensional. On defense, a consistent pass rush will be vital to success.
Whether the rush consists of the standard four or just three or the whole house on a blitz, it must push Tajh Boyd out of his comfort zone. Duke is fifth in the ACC in Sacks with 19 so the Blue Devils need to put Boyd on the ground a time or two. The coverage teams cannot allow a big kick-off or punt return, which affords Clemson the opportunity to play on a short field. Ross Martin and Will Monday must have a banner evening kicking the ball and the coverage teams have to get downfield and make the tackle.
Key statistic: Clemson is ranked number one in the ACC in Red Zone Defense. Duke must demonstrate explosiveness and score touchdowns from outside the Red Zone. Duke will feed off their home field advantage, take advantage of a Clemson turnover or two, and execute on special teams to pull off a huge upset. Duke 37, Clemson 27
Andrew Slater: Clemson has faced one quality defense (Florida State) all season, but, nonetheless, they've been remarkably efficient on offense this season, exploiting their strength, the passing game, with the trinity of QB Tahj Boyd, WR Sammy Watkins, and WR DeAndre Hopkins. Of all the Blue Devil accomplishments this season, establishing Wallace Wade, where the team has gone undefeated in five games, as a place that one can no longer just waltz into for an easy victory might be at the top. It'll be a relatively competitive game and the Devils will be able to score on the Tigers, but, in the end, the Tigers' offense will be too much. Clemson 41 Duke 27
Bob Harris: A repeat of 1989, as Duke beats the Tigers 42-35
Matt Daniels: The Devils are undefeated at home and looking to show up big on prime time tv..look for it to be a high scoring game. Duke 41-37
Thad Lewis: I'm going to have to go with Clemson even though I love my Blue Devils. We are banged up. I don't think we can stop their offense. 35 to 7.
Vinny Rey: Duke 23 Clemson 21- Duke will continue to cause turnovers on the defensive side of the ball. Clemson will play good defense as well, but Duke will make enough plays to win.