The Duke Blue Devils' quest for a 7th win on the season was derailed by a Clemson offense that few teams have been able to stop all year.  When the dust cleared, the Blue Devils dropped a 56-20 decision to the highly-ranked Tigers and fell to 6-4 on the season as they head into the bye week.  The Blue Devils' secondary had no answer for talented wideouts DeAndre Hopkins and Sammy Watkins, or, really, for the entire Clemson offense.
Clemson outgained the Blue Devils on the evening 718 yards to 342, and while the Duke defense intercepted Tajh Boyd a record three times, the Clemson QB's five touchdowns more than offset the picks.  The Tigers also ran the ball well, especially in the 2nd half, totaling 339 yards on the ground to the Blue Devils' pedestrian 85 yards.  In short, it was a mismatch.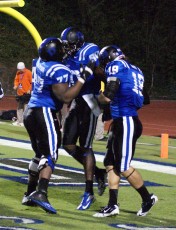 Two bright spots for Duke were wideout Jamison Crowder, who had 7 catches for 167 yards and a touchdown, and kicker Ross Martin, who booted field goals of 46 and 47 yards.  Sean Renfreee connected on 23 of 39 pass attempts for 240 yards and one score with no interceptions.  A telltale stat in the game was Duke's punting nine times to a single one for Clemson,
Duke will take on Georgia Tech in two weeks.  With the loss, the Blue Devils fall to 3-3 in the ACC.