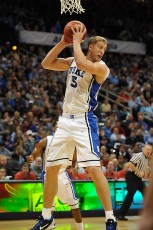 In this edition of the Duke Basketball Notebook, I take a look at the schedule ahead while adding in some insights from covering the Duke beat.
Next up, Temple
Duke will face the Temple Owls in the Carquest Auto Parts Classic in Izod Center in East Rutherford, New Jersey this Saturday, after which there will be an eleven day break before the next game. Look for Duke to seek a bit if revenge from the loss the Owls pinned on them last year.  The Blue Devils should also be focused on going into the break on a high note. We'll preview the Blue Devils and Owls later this week, but until then here are some of my idle thoughts mixed with some facts about the upcoming December schedule.
Withdrawal Begins
Duke fans and their team have had little time to breathe, with games coming at a breakneck pace.  The Blue Devils have faced all comers and have remained undefeated through the toughest early-season stretch I can remember any college team ever playing. After the Temple game comes an eleven day break before Duke faces Cornell on December 19th. And after that and Elon the following night, there is another nine-day stretch until they play Santa Clara just before the New Year.
Cupcakes by Duke Standards
No disrespect is intended towards Cornell, Elon and Santa Clara, but these schools represent the easiest games left on the Duke schedule. Coach Krzyzewski will use these opportunities to further develop Alex Murphy and Amile Jefferson off the bench, and possibly Marshall Plumlee too, who should be back. Of course, everybody will be developing, but fan interest is naturally highest on this season's newcomers.
High Noon
I've been around since Coach Mike Krzyzewski took over at Duke, and we both came up in a time when Saturday games were the norm. But in today's world Sunday games permeate the landscape, simply for television purposes. I agree with Krzyzewski, who has long felt that kids need their Sunday for rest and preparation for the week ahead in classes, and that a late night start is a major hindrance.  The prime-time TV-dictated starts basically steal the kids' weekends while penalizing them for being successful. In this sense the Duke program in a way is a victim of its own success, because nobody wants bottom feeders playing on Sunday evening. Starting with the game versus Santa Clara, Duke will play three consecutive games on Saturday starting at high noon, and that will allow the kids to have an actual weekend and a little time to relax.
If I may wallow in nostalgia for a moment, I surely miss those Saturday games which started no later than 4:00, because even media feels the grind. For example, the Ohio State game in Cameron started on Thursday at 9:30 PM and ended early on Friday. It was 12:30 AM when Coach Krzyzeswski finished up at the podium, and then videos had to be formatted, articles written, and photos gathered, and by the time that is done, I am walking to my car around 2:15 AM. My point is that the decisionmakers often don't consider how late starts or Sunday night games can take a toll on all involved, especially the student-athletes, but also the coaches and the media.
Holiday Games not Necessarily a Bad Thing
There was a time when many felt that the December games which fell around student breaks and the holidays were a disadvantage for Duke, but in recent years that trend has changed. It was about four years ago when I was walking up to Cameron on a sunny, crisp December afternoon noticing the lack of tickets available and their eventual price, which shocked me. Never had I remembered holiday games bringing more than face value to the always sold-out Cameron Indoor Stadium. Each year Duke gives average fans a chance to purchase holiday-time game tickets when the students are on break.  This means no band or cheerleaders, so there is an unusual atmosphere. That used to make for an odd, unorganized and uncertain air to the stadium, and it still does -- but in a good way. Fans from all walks of life who never get to come to Cameron are there, and are itching to get close to their team. Some have made the journey for the first time to what is termed by many as a religious experience, while others just want to show they're forty-something year-old Cameron Crazies who can still cheer with the best of them. What you see is unbridled and rabid support for the Blue Devils.  Although in the past there have been ACC games scheduled during the time when the students were gone, for the most part Duke tries to schedule cupcakes during this time. Personally, I like the full effect of Cameron with the students, cheerleaders and band in play, but the contrast offered by the holidays is not necessarily a bad thing.
The ACC Season begins on January 5th
Duke will open its ACC season on January 5th at home against Wake Forest and then play Clemson in Cameron three days later. The Blue Devils will have built quite the resume by then if they get past Temple and Davidson.
But Kryzyzewski will not let them forget that the ACC is a new season and winning the conference is always a major goal in Durham. January will provide two tough road tests for Duke against N.C. State and Miami, as well and home games versus Georgia Tech and Maryland, the latter looking like upper division material. With the ACC expanding, winning regular season ACC titles will soon become harder than ever and that means ....
... the ACC Tournament will get its swag back
With Notre Dame, Pitt, Syracuse and Louisville joining the Atlantic Coast Conference, not only will regular season titles become a tough get, but so will ACC Tournament tickets. In the past few years, there have been some occasional attendance problems to event, which used to consistently sell out and indeed was one of the most highly sought-after tickets of the year.  But soon, with the new conference additions, tickets to the ACC Tournament will again be hot, hot, hot.