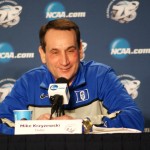 The Duke Blue Devils advanced to the Elite Eight where they will take on Louisville for a chance to go to the Final Four. BDN takes a look at the frenetic pace of events in Indy as we continue our coverage.
A good win over Michigan State
A lot of people were worried about this game and for good reason in that Tom Izzo and the Spartans are always good, but the Blue Devils seized the opportunity at hand pulling out a 71-61 win. On a night when Quinn Cook struggled, Tyler Thonrton played well off the bench and Seth Curry was quite simply the best player on the court by evenings end. Curry of course, dropped 29 points to lead all scorers and he got help from fellow seniors Ryan Kelly who scored 9 points to go with his team high 7 rebounds. Actually, Mason Plumlee tied him for the lead in rebounds with 7 of his own and scored 14 points himself.  It is also worth noting that Kelly was also the games leader in blocked shots with 4 rejections. Rasheed Sulaimon tallied 16 points as well, knocking down 12 of 16 free throws. As a team, Duke went a more than acceptable 24-26 from the free throw stripe as well. And then there is the defense which you have probably read about by now, but if not is was stellar and should the level of play continue, Duke will be a tough out.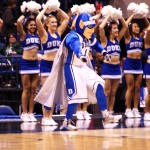 No time to reflect
In talking to the Duke players during  the press conference here in Indy and what they call break out rooms where they speak individually with members of the media, it was clear they were tired due to the late end of the game.   Some members of the team had to take mandatory drug tests late last evening and the other players while they did not have to, waited for their teammates, putting them in their rooms about 2:00 in the morning. Krzyzewski and others saw this as being ridiculous in nature for many reasons. The team had to be back at Lucas Oil Arena by noon today for the aforementioned interviews and according to many of them, it took some time to wind down from the  Michigan State game they had just won. It was impossible for them not to think about that with the dreaded overkill thoughts before bedding down for the evening and to make matters worse, Louisville had to be on their minds as well. While these are indeed young men that can run circles around me, the responsibilities they have which are demanding in nature go unnoticed by fans. But the media knows, for they are on the same schedule with dead lines and in my case it was around 2:48 before I left the arena. Anyhow, Krzyzewski mentioned this as he should, hoping the NCAA will do a study on the situation. There was no reason why today's pressers could not be pushed back at least until say, 2:00. Another thing worth mentioning is that the coaching staff gets very little sleep if any, breaking down film and preparing for the job at hand in order to advance.  How tired were Coach K's Devils?  Tired enough to only conduct a simple walk through practice today.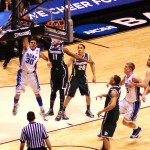 The Final Four Regional
Again, I have dubbed this the Final Four regional in that this region is and or was,  flat out loaded. For the record, Duke and Louisville are the top two seeds left in the entire tournament and many feel the game tomorrow could in a sense be the national title game. It's almost a crime that these two-storied and strong programs could not meet for all the marbles. I mean it is Pitino vs Krzyzewski for gosh sakes and both teams are playing great basketball.  Some feel the winner of this game could actually get a break when they hit the Final Four and I would not argue against that and actually agree with the analogy.
Keep in mind ...
Keep in mind that we'll see these two programs going head to head in the future when Louisville joins the ACC. In that vein, this is an all ACC match up in slightly skewed way. The one thing I noticed when talking to both teams players was the fact that I saw a lot of character. Covering the Duke program up close and personal over the years and even the AAU trail and the kids who eventually go to school in Durham, the one thing I can say with 100% objectivity, is that the Blue Devils players all have immense character in that they are all great kids and citizens on and off the court.
Nobody better than Coach K in Elite Eight play
Duke Coach Mike Krzyzewski is 11-1 in Elite Eight play which is an amazing record. Blue Devil faithful are lucky to have him at the helm and who the heck else would you want in this situation? But the fan base should be grateful win or lose tomorrow and not take for granted how hard it is to advance in these tournaments. Remind yourself how it felt to go out last season against Lehigh in order to enjoy the accomplishments which are earned with hard work that starts the very next day the season ends. It's a long process and the season will be full of ebbs and flows but the last team standing will always be the happiest. Duke is one victory away from going to another Final Four which would be the eleventh for Coach K and company, one shy of John Wooden at UCLA.
30 wins, again
Duke won its 30th game of the season and while no fan wants it to end, that in itself is a dream for any school. It's the 13th time in history Krzyzewski has won 30 games at Duke. In fact, he is the only coach to win 30 in Durham and he has more 30 win seasons than any other coach in the long history of college basketball.
Duke just doesn't have it ... Duke will win it all
It amazes me how wrong the talking heads can be with their predictions as the year goes along and their flipping and flopping is akin to being manic. Going into last evenings game, BDN picked the Devils to win and we did so confidently. Maybe it comes from being around since the dawn of the K era for me or maybe it was just luck. Anyhow, Duke is starting to get some favorable press again. After the Maryland loss, everybody assumed a single game performance meant that Duke would continue to play like that and the ship was destined to sink. Maybe those NBA types will start to do their homework a bit more going forward. After all, it is not like anyone invited them to invade their living room trying to pose as college hoops experts.
Sidebar - Duke is 26-8 all time as a no. 2 seed. Duke is playing in their 18th consecutive NCAA Tournament which is the longest such streak of any program. Did you know there were seven couch fires in East Lansing, Michigan last night?  Seth Curry knocked down six three pointers, a new Lucas oil Arena record and his is 29 points were the second most scored in the arena.  Duke's free throw percentage last evening was the highest in their NCAA tournament history.  Cook moved to 19th on the all time Duke assist list.
Stick around, for a lot more is coming from Indy.