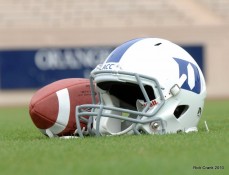 Excitement is rampant in Durham these days as practice is set to start one week from today. Recruiting news has been hot with the commitment of ESPN300 4-Star quarterback Nico Pierre and 3-Star defensive end Taariq Shabazz.
While the staff is focused upon starting practice to prepare for the 2013 campaign, they are still working hard continuing their 2014 recruiting efforts. The class is not complete as several more scholarships are on the table for some highly sought after talent.[private]
Let's start by acknowledging available scholarships are tight. Taariq Shabazz is commitment number 13 in a class that will be between 14 and 17 players deep so Duke has a maximum of four scholarships remaining in 2014. The situation is at a point where the Staff will be looking for the best player available.
Wide Receiver: ESPN300 4-Star Trevon Lee, Cardinal Gibbons High School (Fort Lauderdale, FL) is very interested in Duke. At this time, it appears it will come down to either Duke or Vanderbilt. The optimistic viewpoint focuses upon the recent Nico Pierre commitment as a deal sealer for Duke. Pierre and Lee would complement each other nicely in Durham.
Duke remains a finalist and in good shape with two other wide receiver prospects. Josh Cabrera, Northside High School (Jacksonville, NC) and Jaylan Barbour, Monroe High School (Monroe, NC).
Cabrera has excellent size at 6'3" 185 and has cut his list to Duke, Carolina and N.C. State. Barbour is from the same high school as current Duke players Jamison Crowder, Issac Blakeney and Quay Chambers. Both are quality 3-Star receivers.
Defensive Lineman: ESPN300 4-Star Kurt Holuba, Bergen Catholic High School (Oradell, NJ) is a possibility, but Blue Devil Nation considers him to be a long shot. However, Holuba will be on campus this week so the Staff has an opportunity to work their magic.
Edgar Cerenord (6'2" 285) a 3-Star defensive tackle from American Heritage School (Plantation, FL) will also visit this week. Cerenord does not currently have a Duke offer, but has offers from Indiana, Wake Forest, Rutgers and East Carolina.
This is a good spot to interject that the Staff has not given up on linebacker Kendall Joseph. Joseph was ready to commit to Duke prior to being swayed at the last minute by Dabo Swinney and the Clemson Tigers. National Signing Day is a long way off so it is expected the Staff will continue to remain in contact.
Tight End: Mike Gesicki (6'6" 230) is a 3-Star from Southern Regional High School (Manahawkin, NJ) with an extremely impressive offer sheet that includes: Duke, Florida State, Miami, Penn St, Purdue, Vanderbilt and Wisconsin. Again, Blue Devil Nation considers Gesicki to be a long shot; however, he will also be on campus this week so one never knows.
Cornerback: Tre'Shun Wynn and Greg Stroman are two names to watch here. Wynn is another Monroe High School athlete, while Stroman hails from Stonewall Jackson High School in Manassas, Virginia. Both are quality 3-Star cornerbacks. Stroman is set to announce his college destination this coming Saturday August 3.
A situation which must be addressed here is Nico Pierre and Johnathan Lloyd who are both extremely talented athletes. The opportunity to play quarterback swayed Lloyd to Duke because most colleges were recruiting him to play wide receiver. How will the signing of Pierre, a highly rated quarterback, effect the commitment of Lloyd? At this point no one knows, but it is safe to say Duke needs to win during the 2013 season and secure a second consecutive bowl bid if they want to see signed LOIs from both these guys in February 2014. That is the reality of the current college recruiting landscape.
A quick trip back in time: this situation is reminiscent of the sixties when Duke successfully recruited two outstanding quarterback prospects in Leo Hart and Wes Chesson. Chesson moved to wide receiver and between 1968-70, Hart and Chesson were a record setting tandem. Perhaps Pierre and Lloyd are destined to achieve similar fame at Duke.
Turning to the Class of 2015, there are two names the Staff has had much contact with: Reggie Gallaspy and Darian Roseboro.
Gallaspy (6'0" 215) is a powerful running back from South Guilford High School (Greensboro, NC), while Roseboro (6'5" 265) is a defensive end from Lincolnton High School (Lincolnton, NC). These are two prospects Blue Devil Nation will keep subscribers informed on this coming football season.
Both Gallaspy and Roseboro are members of the 2015 ESPN300 list as 4-Star players.[/private]