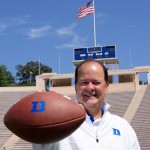 The bus that pulled up on the Duke campus at 11:45 last evening carried a team that for the first time in its long history will be going to back-to-back bowl games. Duke football gained its biggest victory of the season, and one of its biggest in decades, disposing of the 14th-ranked Virginia Tech Hokies 13-10 in Blacksburg, VA.
As the game wound down, you could see the joy in the face of sixth-year coach David Cutcliffe, the man who came to Durham and turned around the fortunes of a team at the bottom of the BCS barrel.
No longer can the local radio stations or other media make fun of the gridiron Blue Devils, for they are 6-2 and riding a four game winning streak, including owning the state of Virginia with two consecutive ACC road wins over UVA and now Virginia Tech.
Nobody can begrudge Coach Cutcliffe the broad smile on his face when he realized Duke had the game in hand, and the program had the signature win of his tenure.
It wasn't that long ago that Duke was the joke of the ACC, and indeed the country. It has taken time to get the program to where it garners respect from its opponents and from the media. Now, the labor of Coach Cutcliffe, the staff, and of course the players, is bearing fruit. Their hard, hard work is clearly and emphatically paying off.
Coach holds his call-in show on Sunday afternoon and you can bet that some of us regulars will have to make way for more national media as folks address the big win and recognize the resurgence in a once-dormant program. In fact, before he could even get settled in upon his return last night, Cutcliffe did one show for satellite radio, and those requests will assuredly continue to come his way.
Cutcliffe has yearned to compete at this level, and to get his team to round the corner and establish real confidence that they should win games against quality opponents.
In the past, he would often say that the program was going in the right direction, and many would scoff at the notion as the team headed for a 3-9 season. And to be fair, it had been a long time since Duke Football was relevant, so taking the "show me" approach was not unreasonable.
Now, Cutcliffe and company have shown everyone not with words but with results on the field. There will be reverberations from yesterday's gutty win in many different areas.
With two home games left, with crosstown rival N.C. State and top-10 opponent Miami, expect Duke fans to come out of the woodwork and be a force in Wallace Wade Stadium. Historically, it takes Duke fans awhile to warm up to the football team, but when they do, it's a sight to see. With this bowl-bound team at this time, the stands at Wade should absolutely be awash in royal blue.
And then there is the recruiting trail. You can bet that the assistant coaches' phones have been constantly in need of re-charging as they try to take advantage of the program being at a high water mark. Duke now has a big-time win to point to, proof that the program is on solid footing. There is no doubt that prospects will take notice and be more open to a call from Duke.
With four games to go this season, the Blue Devils have done something rare. They have positioned themselves to create their own destiny. This team has turned a major corner. Coming into the season, I had several discussions on the state of the program with media members whom I respect. The one thing everyone agreed on was that Duke needed a win over a nationally-ranked team. The Blue Devils not only got that win, but they found a way to do it on the road in one of the ACC's most hostile environments.
Imagine for a second, a dark Yoh Center where Coach Cutcliffe's office resides. Imagine too for a moment, that the team has just gotten off the bus and found their way to campus parties.
Imagine his family waiting on him outside as Cutliffe takes the elevator and turns on the light in a dark hallway that leads to his office.
Imagine the joyous coach taking a moment alone to reflect as he reaches towards a shelf in his office.
You do not have to imagine the next thing that happens, for it will happen.
You see, in his office, Coach Cut has footballs commemorating key Duke football victories. One was his first win at Duke, over James Madison. Another was his first road win over an ACC team (N.C. State), which was also the program's first ACC road win in a long time. Most recently, the ball from the UNC game was added after Cutcliffe helped Duke break a long losing streak against the Tar Heels, and reclaim the Victory Bell.
So it may have already happened last night, or maybe it will happen today, but he will now add another football to the mantle, with the words "Duke 13, Virginia Tech 10 October 26, 2013" on it, and deservedly so. And that game ball for the win over Virginia Tech will be the most special addition yet.
And if it seems like I'm saying that the season and its accomplishments are complete, they're obviously not.
With four games left, the team has plenty of opportunity to expand on what is fast becoming a special season for Duke Football, and make more Duke football history.
And now when people hear David Cutcliffe saying the Duke football program is moving in the right direction, nobody will be snickering and nobody will be raising their eyebrows, because there can be no doubt that it is true.