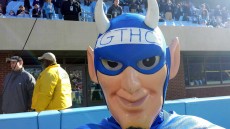 DURHAM, N.C. - Duke Blue Devil fans can be a part of the Duke-North Carolina series and appear live on ESPN when College GameDay presented by State Farm comes to Cameron Indoor Stadium this weekend. ESPN College GameDay will be on the campus of Duke University on Saturday, March 8 and will air two live one-hour segments in a day-long preview to the greatest rivalry in college athletics.
Join ESPN's GameDay crew of Rece Davis, Jay Bilas, Digger Phelps and Jalen Rose live in Cameron Indoor Stadium from 10 a.m.-12 p.m. and again from 8-9 p.m. ESPN College GameDay is open to the general public with the doors to Cameron Indoor Stadium opening at 8:00 a.m. Fans are encouraged to arrive early for the show.
Don't miss the chance to be part of a live TV broadcast, see how it all happens behind the scenes on the set and show the nation why the Duke-North Carolina rivalry is the best in college athletics. Duke hosted its first College GameDay for basketball in 2005 and the shows have always been full of fun and surprises.
Special guests and former players along with Duke Basketball prizes and giveaways will add to the show, so don't miss your chance to be part of this special day in Cameron.
One lucky fan will have the chance to shoot a half-court shot for $18,000 from State Farm. Duke student Tim Catlett made the halfcourt shot at Cameron Indoor Stadium in 2010.
The public entrance into the event will be from the South Hall of Honor, while undergraduate and graduate students will enter from the North Lobby (Krzyzewskiville). General public parking will be available in the Circuit Lots from 6 – 10 a.m. with a free courtesy shuttle running from 7 a.m. – 1 p.m.
Saturday night in Cameron Indoor Stadium, fourth-ranked Duke takes on No. 14 North Carolina at 9 p.m. on ESPN with Dan Shulman, Dick Vitale, Jay Bilas and Shannon Spake calling the action.