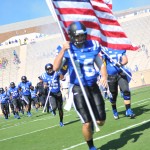 The time to win for Duke Football is now. Coming off back to back bowl games and returning several key starters this is a season when we should expect the Blue Devils to win and continue their bowl streak which would stretch to three straight.
The Blue Devils gained some serious momentum a season ago by winning their division and eventually dropping their final game of the season to Johnny Football and Texas A & M in the Chic-Fil-A Bowl. If you remember Texas A & M was coming off a win over Alabama the season before and they had three very high first round draft picks. They were also projected as a pre season top five team. What I am saying is had you told the average person Duke would take this team in a bowl game by seasons end and they'd be wondering about your mental state.
Last year was truly a break through season for the Blue Devils, but it didn't always look like that would happen. Duke suffered a disappointing loss to Pitt where they could not stop their offense from scoring and they then suffered a loss to Georgia Tech in back to back games in Wallace Wade Stadium.
In hindsight those losses probably slowed the bandwagon of fans that have now come aboard in that nobody could envision that Duke would flip things around after a 2-2 start. It took another close win over Troy but then came a bye week and Duke rocked Navy and that started a roll where they took out Virginia, Virginia Tech, N.C. State, Miami, Wake Forest and North Carolina to close their regular season at an amazing 10-2 record.
During that time Duke Defensive Coordinator Jim Knowles found some mojo and the job he did past the Troy game was more than just a little impressive. Anyhow, as each week passed, people started to believe and attendance started to get better.
The momentum Cut's crew has established will carry over going into this season and the crowds will continue to get better provided they take care of business. Duke has already sold more season ticket packages and in the next three years or more, the Administration will start to implement changes to Wallace Wade and along awaited better experience for the fans attending.
Duke has always had a cult base of fans for the program, but now, more want to come aboard and winning has a way of sparking interest. It also helps that Duke is recruiting better than they have since a singular banner class under former coach Steve Sloan. Yes, I am dating myself, for we are talking the eighties. But Cut has done something no other coach was able to do, since Bill Murray and that is building a truly sold foundation in which to operate.
You may have noticed that I have said the time is now to win, so let me explain that a bit more. Duke returns a solid talent base and they have good leadership in the senior class, but after this season they will rebuild a little bit and that is the nature of the beast. They will be much younger in two years and could take a small, yet temporary step back.
Add that to a schedule where for the first time in years you can make the claim that they could beat anyone on the slate and you can start to feel me. But be warned, Duke will not sneak up on a soul this season and everyone will take them seriously, some circling the game on their schedule. What Duke has to guard against is complacency and remain hungry to continue the building process.
In the pre season polls, Duke has been picked anywhere from second in their division to tied for last. That means, the program is still earning respect but doing so quickly. On paper, it is hard to argue with Duke not possibly being the pick to win the Coastal, but Miami returns some kids from key injuries and they take on the Blue Devils in Miami. Then there is Virginia Tech.
Make no mistake that the Hokies will come to Durham this year hell-bent on revenge. Last year, I'd argue the win over Virginia Tech was the key to going 10-2 and that win, despite a day when the offense struggled mightily to do a thing, showed that Duke had learned how to win games when one side of the ball was having issues.
Duke was also able to defeat North Carolina for the second consecutive season to save the Victory Bell from returning from its long time home and that is more than a little huge to players and fans alike. But the Heels, despite that, are considered better than Duke by most picking their pre season picks to date. The Blue Devil will also face stiff competition from Georgia Tech a team that's had their number for far too long and Virginia is more experienced at key positions.
So there. I have set the table and talked a bit about the wonderful season a year ago but it's now time to start to look ahead and tomorrow the Blue Devil Nation will continue it's one article a day take on Duke Football in July and by the end of the month, we feel you will have a much better grip on what to look for in 2014-15 and tomorrow our series or preview will continue on a daily basis every day in July, so be sure to check back in.