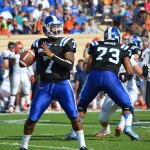 Duke will be a senior laden team in 2014. A quick look at the roster reveals 15 seniors with starting experience who will either start or be the first substitute at their position in 2014. Eight of the fifteen will take the field on defense, while the remaining seven are offensive players. Those fifteen players are spread across all positions with the exception of the secondary.
Here is the player listing with the number of career starts in parenthesis:
OG Laken Tomlinson (39), OT Takoby Cofield (29), LB Kelby Brown (29), WR Jamison Crowder (27), LB David Helton (19), DT Jamal Bruce (15), TE Braxton Deaver (15), QB Anthony Boone (12), LB C.J. France (12), RB Josh Snead (11), DE Jordan DeWalt-Ondijo (9), DT Jamal Wallace (8), DE Dezmond Johnson (6), WR Issac Blakeney (5), DE Jonathan Jones (2).
Those numbers reflect a great deal of experience by players who have become accustomed to winning over the past two seasons. Their experience should pay big dividends in the upcoming 2014 season when Duke takes the field to defend their Coastal Division Championship.
Experience can be quantified by looking at the number of games a player has started and the number of snaps he has played. How about talent level? Are Duke's seniors talented? Judging by the number who earned post season and preseason accolades, the answer is yes.
Jamison Crowder and Kelby Brown were 1st Team All ACC in 2013, while Laken Tomlinson was named to the 2nd Team and Braxton Deaver was named to the 3rd Team. Tomlinson and Deaver were also named to the ESPN All-Bowl Team.
A look at 2014 preview magazines lists reveals the presence of the four seniors listed above plus David Helton, Anthony Boone and Takoby Cofield. Here are the preseason All ACC selections by a couple of magazines.
Lindy's: (1st Team) Jamison Crowder and Laken Tomlinson. (2nd Team) Kelby Brown, Braxton Deaver and David Helton. (3rd Team) Anthony Boone.
Phil Steele: (1st Team) Jamison Crowder, Laken Tomlinson and Kelby Brown. (2nd Team) Braxton Deaver and David Helton. (3rd Team) Anthony Boone. (4th Team) Takoby Cofield.
Both Jamison Crowder and Laken Tomlinson were named preseason All America by various magazines.
With the facts all lined up, it is evident Duke's senior class is both experienced and talented.
Strong leadership is a crucial element in team success with experience significantly enhancing leadership acumen. The 2014 squad is loaded with talented, experienced players who are potential team leaders.
Anthony Boone was a team captain in 2013 and will be expected to be the team leader in 2014.
When discussing leadership, Josh Snead has to be part of the conversation. Snead led Duke in rushing in 2013 with 651 yards on 107 carries for an impressive 6.1 yards per carry average. Snead is vocal leader on both the field and the sidelines and will certainly be a guy teammates look to for both direction and inspiration.
The five senior defensive linemen could be the group who will have the biggest impact on achieving success in 2014. Games are won and lost in the trenches so it will be up to the defensive linemen to control the line of scrimmage and generate a pass rush to disrupt the opponent's offensive flow.
In 2013, Jonathan Jones recorded three quarterback sacks, Jordan DeWalt-Ondijo recorded two, while Dezmond Johnson and Jamal Bruce generated one each. The importance of pressuring the quarterback cannot be overstated so it is imperative the senior defensive lineman are productive in order for Duke to be successful.
Behind the front four, line-up two extremely productive linebackers. Kelby Brown and David Helton are dynamic ball players with a nose for the football. Helton led the team in tackles with 133, while Brown recorded 114 tackles and two big interceptions in wins over Virginia Tech and North Carolina.
On offense, Duke returns their leading passer, receiver and rusher from last season: Anthony Boone threw for 2260 yards an 13 touchdowns; Jamison Crowder hauled in 108 receptions for 1360 yards and eight touchdowns; and, Josh Snead rushed for 651 yards and two touchdowns. Additionally, senior Braxton Deaver recorded 46 receptions for 600 yards and four touchdowns. Those four seniors will bring a tremendous amount of experience onto the field in 2014.
Turning to the offensive line, senior Laken Tomlinson is one of the best offensive linemen in the country. He will be drafted in one of the early rounds of the NFL Draft come next spring. Takoby Cofield also possesses NFL level talent and from his left tackle position he will be tasked with protecting Anthony Boone's blindside.
While this article focuses on the seniors, the 2014 Blue Devils will include many talented juniors such as 2013 All America selectee Jeremy Cash plus plenty of underclassmen who shined last season. Junior Will Monday and sophomore DeVon Edwards also earned high praise in the various preview magazines.
However, 2014 is the last hooray for the seniors so the expectation is they will be playing with a sense of urgency. It is the seniors who will lead the charge when the Blue Devils take the field looking to earn a second consecutive trip to the Dr. Pepper ACC Championship Game and a third straight bowl game.
Fortunately for Duke, this year's seniors are a strong group of talented, experienced leaders!