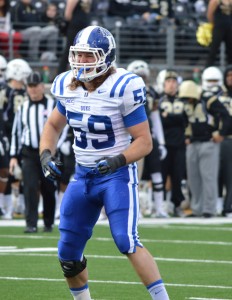 Prior to last season, Duke was a team which had to win by outscoring the opponent as the defense could not be relied upon to stop the opponent. The situation changed in 2013 when the defense stood up and made a statement with dominating performances in wins such as the 13-10 victory over Virginia Tech in Blacksburg, the 35-7 dismantling of Navy inside Wallace Wade Stadium and the 2nd half shutout of Virginia, in Charlottesville, when Duke came from 22 points down to win 35-22. The 2014 Blue Devils will look to build off the success achieved last season with continued strong defensive performances. In this article, Blue Devil Nation breaks down the defense position by position.
Defensive Tackle: The interior defensive line has been a problem area for the Blue Devils recently; however, in 2014, defensive tackle is shaping up to be a position of strength. Jamal Bruce was a pillar of strength in 2013 starting all 14 games, recording 33 tackles and a sack. Bruce underwent surgery on January 9 for a broken foot suffered in the Chick-fil-A Bowl. He is expected to be fully recovered prior to the start of practice next month. Carlos Wray came on strong in the second half of last season during which time he recorded 22 of his 31 tackles on the season. Wray is a guy to keep an eye on as he appears poised to have a breakout season in 2014. A. J. Wolf (nine tackles) and Jamal Wallace (six tackles) have game time experience and should see an increase in snaps played, while redshirt freshman Mike Ramsay (6'2" 295) is a guy who could be an impact player in his first season on the field. Adding to position depth will be two highly touted true freshmen, Edgar Cerenord (6'1" 300) and Quaven Furgusen (6'2" 305) who could compete for immediate playing time. Defensive tackle is a position in solid shape heading into the season.
Projected starters: Jamal Bruce, Carlos Wray
Defensive End: Duke's defense improved dramatically in 2013, but one area still needing to take it up a notch is the pass rush, which falls squarely on the shoulders of the defensive ends. Moreover, those pass rush generating defensive ends must be able to simultaneously defend against the run. It is no easy task. In terms of who is going to start and who is going to play significant snaps, defensive end is the most wide open position on the defense heading into the season. Kyler Brown was moved from linebacker to defensive end in the spring. Brown played defensive end in high school so he is returning to a familiar position. Dezmond Johnson (22 tackles/one sack), Jordan DeWalt-Ondijo (nine tackles/two sacks) and Jonathan Jones (17 tackles/three sacks) are the returning DE lettermen, but the jury is out on how effective they will be as every down defensive ends. Defensive end is a position of concern heading into the season.
Projected starters: Jordan DeWalt-Ondijo, Dezmond Johnson
Linebacker: Four experienced players are on the roster plus some young, unproven talent. David Helton was the team's leading tackler last season with 133, while 1st Team All ACC selectee Kelby Brown recorded 114 tackles, two interceptions and two fumble recoveries. C.J. France (20 tackles) and Deion Williams (17 tackles) round out the experience at the position. Redshirt freshmen Dominic McDonald and Chris Holmes will both look to make the most of playing time opportunities but there is a lot of experience in front of them on the depth chart so impressing coaches with solid special teams play could be their best option. Redshirt junior Nick Hill was moved from defensive back to linebacker in the spring. True freshmen Zavier Carmichael, a 4 Star recruit per ESPN, and Tinashe Bere round out the rotation possibilities. Linebacker is a position of strength headed into the season.
Projected starters: Kelby Brown, David Helton
Cornerback: The team is young on the corners but the players make up for their lack of experience with natural talent. Rising sophomores Breon Borders and Bryon Fields excelled on the corners as true freshmen and are expected to be bigger, faster and stronger in 2014. Borders snagged four interceptions to go along with 26 tackles, while Fields recorded 42 tackles and one sack. DeVon Edwards, three interceptions and 64 tackles, splits time between cornerback and safety. The same cornerback/safety split is projected for redshirt freshman Evrett Edwards. Edwards arrived at Duke amidst much fanfare so expectations are high for him starting this season. Additional players in the mix are redshirt freshman T.J. Douglas, who has good size at 6'1" 185, and true freshmen Alonzo Saxton, Johnathan Lloyd and Zach Muniz. Cornerback will be a young position this season with one major unknown, can one of the guys can take the next step to All ACC level player?
Projected starters: Breon Borders, Bryon Fields
Safety: All America selectee Jeremy Cash is most likely the best individual talent on Duke's defense. When the game is in motion, Cash seems to be everywhere at once as evidenced by the 121 tackles, four interceptions and two fumble recoveries he recorded during the 2013 season. With Ross Cockrell departed to the NFL, Cash will be expected to be the leader of the defensive backs in 2014. Junior Dwayne Norman struggled with injuries throughout his sophomore season so his return to good health would provide valuable experience to another youth filled position. Redshirt sophomores DeVon Edwards and Corbin McCarthy plus sophomore Deondre Singleton were all solid performers in 2013 who will be more experienced this coming season. Redshirt freshmen, Quay Mann, Jake Kite and Phillip Carter round out the rotation possibilities. This position's line-up is young but the youth is countered by All America level talent and depth. Safety is another position in solid shape heading into the season.
Projected starters: Jeremy Cash, DeVon Edwards, Deondre Singleton