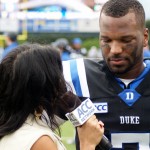 The Duke Blue Devils will open the 2014-15 season with Elon at home and that is as close to a sure win as they could have scheduled. But what can we expect after that as they play three of their first four games in Wallace Wade Stadium before getting into the meat of their schedule?  The first thing one might notice taking a look at the slate is that the Blue Devils, like last season, avoid Florida State and Clemson from the ACC's Atlantic Division and that's never a bad thing.  The Blue Devils dodge talented newcomer Louisville as well, so in a word the conference slate is manageable.  But before you go counting a bunch of sure wins, it's best to realize several things, first and foremost that the defending Coastal Division Champions will not sneak up on a soul.
The Elon game is just what the doctor ordered to open the season.  Teams can start slowly and upsets often occur in the early season while teams are refining their system, but the Phoenix are not a strong club and have a new coach at the helm.  This means that Duke should be able to play a lot of players and ease into the year with little pressure of a possible loss.
Duke will next head to Troy and play against a team that can score.  This could be a stiffer test than many believe if for no other reason than it is a home and home series and the Blue Devils have never played in the stadium and rarely in the state of Alabama,  Troy played Duke tough until the end a season ago, but the Blue Devils came away with a 38-31 win.  If there is an early season trap game, this is probably it, but Duke should be the favorite in a day that the offense will need to click.  Troy is still considered a front-runner in the Sun Belt conference and always has something to prove against better league teams.
Duke will then return home for two games against Kansas and Tulane.  Trust me when I say don't sleep on the Jayhawks.  Yes, they finished last in their league a season ago but this will be a senior laden team that many in their region feel is their best team in years.  Plus, they play in what I will call a wide open offensive conference, so they are capable of playing in one of those wild and wooly high scoring games.  The Green Wave played Duke tough a season ago and are capable of doing so again, but if the Blue Devils struggle to beat them, it could be a sign things have gone astray.  The bottom line is Duke should win their first four this season but that has to be done on the field and not through speculation.
Hopefully, Duke is 4-0 going into two very tough in division road ACC games.  Miami is first on the slate and it will surely be hot as Hades in Coral Gables.  The Canes are one of the teams that will be hell-bent on revenge, losing 48-30 a season ago in a game where the Blue Devils simply were great.  This is also the ACC opener and an important game for both teams.  The Canes are talented and they return some key players off injury who did not suit up against  the Blue Devils and this is likely to be the first game Duke comes into the contest and underdog.  Then Duke gets another division favorite in Georgia Tech on the road, a team that has well, dominated Cut and company in the past few seasons.  Ask the average Duke football fan which team they most want to beat and the Yellow Jackets are the choice by many even over traditional rivals.  And this is one of Paul Johnson's teams that will fly a tad under the radar and that is when history has shown they've had success.  Gone is the local quarterback in Vad Lee who torched the Duke secondary a season ago with big plays, but that means Johnson will have a guy in the fold that buys totally into his option system and that makes them possibly even tougher this season for a methodical offense can be brutal when it is on.  These are two tough road games and two games that more or less stand alone in the early season and let's not forget the Blue Devils actually started their ACC season 0-2 a year ago and recovered, but don't expect that magic to happen again if the results are the same.
Duke will then return home for their annual showdown with Virginia and they'll have a bye week following.  What that means is that they'll go all out in the conference game which is considered a must win contest at home.  I realize UVA has struggled a bit of late, but there is a ton of talent on their team in that their recruiting has been consistently solid.  The Wahoo defense should be improved and they return their entire secondary and a solid senior running back in Kevin Parks.  It is also worth noting that the Wahoos will have a week off before facing Duke which means they'll have plenty of time to prepare,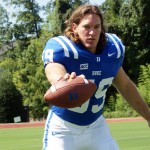 Next comes two more conference road games in venues the Blue Devils will visit for the first time ever.  Duke may well have Pitt marked in their schedule as a payback game after a bitter 58-55 loss a season ago in a game they could and should have won.  Just think, they could have been 11-1!  But we all realize that these kind of analogies are far from simple.  Anyhow, Pitt is expected to be a pretty solid club playing their third consecutive home game.  Duke will then head to Syracuse and do not be surprised in any way if they are the underdog for the Cuse  returns most of their key offensive talent from a 7-6 team.  The Orange also get back a lot of their defense and in my opinion, they'll be pretty decent and likely favored in the Carrier Dome.  These two road games could be a huge tell for the Blue Devils post season hopes and much tougher than the average fan seems to be gauging them in the early season.
Next comes two games against what will surely be a mad as hornets Virginia Tech team in Wallace Wade Stadium followed by arch rival North Carolina.  The Hokies will be picked by many to win a wide open division in the pre season and after last seasons 13-10 home loss to Duke, they'll be primed for this one and physical.  And a tough physical game could be tough on Duke in that they turn around and face North Carolina on A Thursday nationally televised game on ESPN.  If there are injuries, the Blue Devils will have little time to heal in what could be the two most important games of the season.  If the Hokies fins a quarterback, their offense has a lot of returning talent and they'll make a serious run for the division.  Their defense suffered some major losses but when is the last time in the modern era their defense wasn't good?  Oh!  And did I mention the Hokies have an extra week to prepare for Duke?  When North Carolina visits, they too will have revenge and the Victory Bell on their collective minds.  After all, David Cutcliffe and his charges have a two game winning streak over their rival these days and last year they were the best team in the state of North Carolina.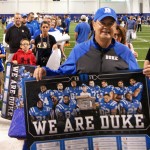 Duke will close the season with Wake Forest and this should be a win but it is a rivalry game and new Deacs head coach Dave Clawson has had big time success against the Blue Devils while at Richmond.
With all that said, it will be an interesting season which gets underway in just over fifty days.  There is tremendous excitement surrounding the football program and there is no reason to think Duke will not go bowling for a third straight season.  And if all the cards fall right, there is no reason they cannot repeat as Coastal Division Champs as well.  It's always fun for fans to look ahead at games on the schedule, but in the end, you have to take them one at a time and the many varying intangibles as the season develops can alter what seems clear now, greatly.