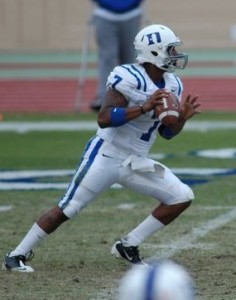 Organizational leaders are always looking to improve performance. This is true of football coaches as well as corporate CEOs, public administrators and small business owners. Critical self analysis is a vital step in performance improvement. While it is important to emphasize positives, identifying negatives is mandatory.
How can Duke improve performance in 2014? The Blue Devils need to reduce the number of turnovers committed in order to improve their performance and build on the success achieved in 2012 and 2013. Turnover Margin is a key statistic in football, taking the ball away from your opponent, while simultaneously valuing the ball when you possess it increases the opportunity to achieve victory.
Duke was Plus One (+1) in turnover margin last season with 26 gained to 25 lost. The gained turnovers breakdown into 18 interceptions and eight fumbles recovered, while the lost turnovers breakdown into 19 interceptions thrown and six fumbles lost. Obviously, reducing the number of interceptions thrown has to be a goal for Duke's offense in 2014.
A positive turnover margin increases a team's chances to win the game so it should come as no surprise that Duke was Plus Six (+6) in 10 wins, but Minus Five (-5) in the four losses last season.
Returning fifth year senior quarterback Anthony Boone threw 13 interceptions and 13 touchdowns, for a one to one ration in 2013. Comparatively, Heisman Trophy winner Jameis Winston threw forty touchdown passes and 10 interceptions for a four to one ratio. Alabama quarterback A.J. McCarron, who finished second in the Heisman voting, also compiled a four to one ration by throwing 28 touchdown passes against seven interceptions.
These numbers clearly illustrates the need for Boone to improve his touchdown to interception ratio performance in 2014.
Duke's early season loss to Pitt, in a 58-55 offensive shootout, featured four Brandon Connette interceptions, which quelled Duke's comback attempt. After falling behind big, the score was Pitt 51, Duke 35 at the end of the 3rd Quarter, Duke outscored Pitt 20-7 in the 4th Quarter; unfortunately, Pitt's points were via a 37 yard interception return for a touchdown. On the day, Pitt was Plus Four (+4) on Turnover Margin.
Let's take a look at the Turnover Margin in a couple of big games from this past season:
1. Florida State 51, Clemson 14: A highly anticipated showdown turns into a rout as Clemson turns the ball over four times, starting with their first play from scrimmage, compared to one turnover for Florida State. The Seminoles capitalize on their Plus Three (+3) Turnover Margin to crush the Tigers in Death Valley.
2. Oklahoma 45, Alabama 31: Perhaps the Crimson Tide was not focused on the task at hand because they expected to be playing for the National Championship instead of in the Sugar Bowl. Expectations aside, a team cannot turn the ball over five times and expect to win. Oklahoma was Plus Four (+4) on Turnover Margin and the Sooners rode those turnovers to a 14 point victory over the Crimson Tide.
Duke benefitted from the Turnover Margin statistic multiple times last season. The Blue Devils were Plus Three (+3) in the 35-7 win over Navy and Plus One (+1) in the 28-21 victory over Wake Forest.
In the 27-25 win over North Carolina, Tar Heels' quarterback Marquise Williams threw two interceptions, the first leading to a 3rd Quarter touchdown drive by the Blue Devils and the second ending the game as Carolina was attempting to get in range for a potential game winning field goal attempt. Duke was Plus One (+1) on Turnover Margin as they defeated their rivals for the second consecutive season.
Looking back at the painful loss to Texas A&M, in the Chick-fil-A Bowl, turnovers were the difference. Duke was Minus Two (-2) in the game. All the Johnny Manziel 2nd half heroics aside, Duke was leading 48-45 with less than four minutes to go in the game. Unfortunately, Anthony Boone threw a bad pass, which the Aggies turned into a 55 yard Pick Six and a 52-48 lead. Two minutes later Boone threw a second interception and the game is history.
What is the moral of the story? Value the football! Something Duke's offense must do a better job of in 2014, because no matter how unbelievably successful the Blue Devils were in 2013, there is always room for improvement, especially for an organization which is willing to engage in critical self-analysis. Head Coach David Cutcliffe and the Duke Blue Devils are willing to look in the mirror long and hard.