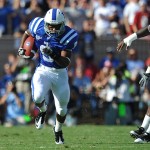 Dominate passing teams can certainly win games as can dominant running teams. However, a balanced offense capable of both running and passing the ball provides a team the best opportunity to win championships. A prime example is 2012 BCS National Champion Alabama, which gained 51 percent of their yards on the ground and 49 percent through the air. In 2013, BCS National Champion Florida State gained 60.9 percent of their yards through the air and 39.1 percent on the ground.
There are plenty more examples including 2011 National Champion Alabama and 2010 National Champion Auburn that gained 57.1 percent of their yards on the ground and 42.9 percent through the air. It does not matter whether a team passes more or runs more, the important factor is a team's ability to do both.
In 2013, Duke won 10 ball games for the first time in school history, and achieving a balanced offensive attack was a significant factor in achieving success. The Blue Devils gained 58.2 percent of their yards through the air and 41.8 percent on the ground. Last season was the most balanced offense Duke has had during the Coach Cutcliffe era.
Successfully running the football was huge, as Duke averaged 178 yards per game on the ground. The read option was an effective piece of the offensive arsenal with Duke quarterbacks combining to rush for 551 yards and 19 touchdowns.
Can Duke be equally balanced in 2014? Of the 2,492 yards rushing last season, 1,247 yards, or 50 percent, where gained by players who will not be on the roster this year.
How will the Blue Devils make up those yards?
First, senior Josh Snead and junior Shaq Powell must be ready to carry a larger load. Those two running backs are experienced, talented players who most likely will carry the ball more times this coming season than they have in previous years. Obviously, their health is important.
Next, the staff will look toward redshirt freshman Joseph Ajeigbe to step up and help shoulder the load. Ajeigbe was very productive in the Spring Game with 59 yards rushing and 34 yards receiving so he will need to replicate that success come August and September.
Finally, true freshman Shaun Wilson could see immediate playing time if he is ready to compete at the Division 1 level. With a true freshman, the jury is always out until the staff sees him compete in practice and scrimmages against college level competition.
If Wilson is ready, Head Coach David Cutcliffe will have the four running back rotation he has seemed to favor in recent seasons.
On the passing side of the equation, of the 3,474 yards receiving last season, 2,932 yards, or 84.4 percent were gained on receptions by returning players such as Jamison Crowder (1,360 yards and Braxton Deaver (600 yards).
With three more accomplished receivers available, Max McCaffrey (282 yards), Issac Blakeney (244 yards) and Johnell Barnes (217 yards), plus sophomores Ryan Smith (41 yards) and Anthony Nash (31 yards), and several talented freshmen; Duke is poised to utilize a three wide receiver set to spread the field and challenge the opponent's defense.
Utilizing two tight end formations is another viable option as Duke is deep at tight end with All ACC candidate Braxton Deaver and 2012 starter David Reeves. Reeves is a player who would start on a lot of teams. His touchdown reception in the Chic-fil-A Bowl was a thing of beauty when he tip toed down the sideline in order to stay in bounds.
Erich Schneider is the third tight end, he took a redshirt last season after playing as a true freshman in 2012 (when Deaver was unavailable due to injury).
There are two more factors to be discussed, vital to answering the question, "can Duke be equally balanced in 2014?" Those factors are quarterback play and the offensive line.
Brandon Connette is gone having transferred to Fresno State to be closer to his mother, a decision that is not only understandable, it is laudable. Family has to be first!
Gone with Connette are 1,212 yards passing, 347 yards rushing and a combined 27 touchdowns. He was the redzone/short yardage specialist plus the back-up quarterback and his departure leaves the number two job wide open for competition between two talented but inexperienced players: Thomas Sirk and Parker Boehme, plus true freshman Nico Pierre.
But this is Anthony Boone's team! There is no question, Boone is the starter and he would have been the starter even if Connette returned so the quarterback situation is solid for 2014. Boone's health is more critical without an experienced backup waiting in the wings, but Sirk and Boehme are both capable guys if pressed into action.
Boone is 10-2 as a starter. He passed for 2,260 yards with 13 touchdowns and 13 interceptions in 2013, while rushing for 214 yards and five touchdowns. Improving his touchdowns to interceptions ratio as a senior should be a priority goal for Boone.
The biggest question mark at quarterback is whether or not Boone takes an overwhelming majority of available snaps as the every down, every situation quarterback, or if Coach Cutcliffe opts to utilize Sirk or Boehme in short yardage situations, or for a specific package such as the read option seeing as both players are strong running quarterbacks.
Moving on to the offensive line, which is the final piece of the balanced offense puzzle. Improvement on the offensive line has been nothing short of tremendous under Coach Cutcliffe. The big guys up front have proven they are capable of run blocking in addition to being one of the best pass blocking units in the nation. Duke ranked number 10 in "Quarterback Sacked Percentage" in 2013, the highest ranking for any ACC school.
Two starters, left guard Dave Harding and right tackle Perry Simmons have been lost to graduation, so adjustments will need to be made, but offensive line coach John Latina has the pieces he needs to fill the holes starting with junior Lucas Patrick who is projected to start at left guard, but is equally capable of playing right tackle.
The fifth starter is projected to be either Tanner Stone at right tackle or Cody Robinson at left guard. Although Robinson has never started a game, he has played a lot of snaps and is an experienced offensive lineman. Stone suffered an injury during preseason practice in August 2013, which robbed him of the opportunity to gain valuable experience as a redshirt freshman.
All the pieces are in place for the Duke Blue Devils to achieve a balanced offensive attack in 2014. The coaching staff will design offensive game plans that mix things up in order to exploit opponent's scouted defensive deficiencies. All that is left is for the offense to trot out on the gridiron and execute.
Duke fans should look for a balanced offensive attack in the neighborhood of 60 percent passing to 40 percent running as the Blue Devils compete to win a second consecutive Coastal Division Title and earn their way back to the ACC Championship Game on December 6, 2014 in Charlotte, NC.