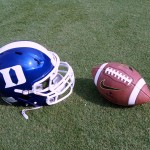 A few random thoughts on Duke Football ...
ACL injuries are common
As you well know, Duke recently lost two key players to ACL injuries in Kelby Brown and Braxton Deaver for the coming season. That prompted me to do a study on how many other players at the major college division level had suffered similar injuries. I found that there were 19 total players out just this pre season due to ACL injuries and an additional 8 players listed by their athletic departments as knee injuries. The aforementioned 8 players out could have an ACL injury as well in that some athletic departments list injuries different due to their own personal policies concerning injury disclosures.
Running Back position is on solid footing
During a recent interview with Duke Head Coach David Cutcliffe, I spoke to the Duke Offensive Coordinators comment that the running back position excited him the most on the offensive side of the ball.  Cutcliffe said he would like to have more depth at the position but that the team certainly had experience there in Shaquille Powell and Josh Snead.  He also mentioned that Joseph Ajeigbe had stepped up and would earn some snaps.  Duke Offensive Coordinator, Scottie Montgomery also commented on Ajeigbe as being a hard inside the tackle runner who could bounce off people for extra yards.  But perhaps the best news was that according to Cutcliffe, North Carolina bred Shaun Wilson would play as a true freshman, making him the fourth running back on the depth chart.  It is worth noting that Duke has pretty much just walk players on the depth chart behind these four players, so you can understand Cutcliffe alluding to depth as a possible issue if injuries occur during the season.  You may also start to hear more references to "The Stable," which is a name the coaches have coined for the unit.  I think it's safe to say that he Duke offense will have success this season if they can run the ball effectively which is something they wanted to do even better at this coming season.
Duke will play two games on turf
The Blue Devils will on play on artificial turf two times this coming season.  They will do so when they travel to Troy on September the 6th an Syracuse on November the 8th.  Artificial turf is generally considered to be a faster surface and Duke is built for speed.  At the same time there are studies indicating that there are more injuries on turf than natural grass.
Duke opponents have suffered pre season losses as well
A season ago, Duke avoided the injury bug for much of the season.  For what it's worth both Kelby Brown and Braxton Deaver have had unfortunate histories with injuries but each has bounced back.  I've taken a look at the Duke opponents for the coming season and came up with a total of players they have out due to injuries, suspensions or various other issues and here is the list.  Let me preface the list by saying it is up to date but does not include Elon or Troy.  The teams and numbers of players out are listed in the exact order of the schedule -
Kansas - 5
Tulane - 0
Miami - 3
Georgia Tech - 7
Virginia - 1
Pitt - 2
Syracuse - 4
Virginia Tech - 6
North Carolina - 5
Wake Forest - 1
11 days until kickoff
We are just 11 days away from kickoff for the 2014-15 college football season.  Duke still has some tickets and packages available through GoDuke.com.  Duke opens with the Elon Phoenix on August the 30th at 6:00 and the game will be broadcast on ESPN 3 which for the most part is on line only,