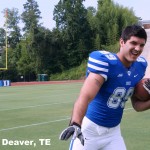 There has now been an official release from Duke University confirming that All ACC starting Tight End, Braxton Deaver is out for the season with a torn ACL.
Deaver, like Brown a week ago was in good spirits and looking forward to a season where the Blue Devils were the defending Coastal Division Champions.
"This certainly seems redundant after Kelby's injury last week, but again our thoughts and prayers lie with Braxton and his family with this news," Duke head coach David Cutcliffe said.
The redundancy Cutcliffe is speaking to is of course the same injury to another key senior in Kelby Brown.  The losses this early season have certainly hampered Duke in that they will have to continue to make adjustments and hope other players step up.
There seems to be some uncertainty at this time pertaining to whether he can petition the NCAA for another season where I have heard altering versions of the rule, so that remains unclear at this time.
Deaver had been named to the preseason Watch List for the John Mackey Award, which honors the top tight end in college football. In 26 career games at Duke, he has caught 54 passes for 707 yards and four touchdowns according to Duke Sports Information. Deaver was also picked second team All ACC.
"While we'll miss his presence on the field, the priorities with Braxton right now shift to his health and spirit. We do know that Braxton will continue to be a valued member of our program going forward," said Cutcliffe in a prepared release.