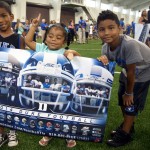 Meet the Blue Devils was a hit
The annual Meet the Blue Devils Day was held this past Saturday at the Paschal Field House on the campus of Duke University.  There was a record turnout for the occasion and it's clear that the program is riding the momentum of last season where Duke won the most games in their schools history.  Fans waited in a line close to 100 yards for a chance to meet Coach David Cutliffe and the players were quite popular as well.  I am sure that there was a moment when Cutcliffe reflected a bit on how far the program has come and most certainly most fans in attendance did the same.  The program has a lot of momentum and it seems like only the start as improvements abound and the future looks bright.  What was evident is that the program seems here to stay and for those long time fans, that is sweet music to their collective ears.  A season ago, many fans were almost stunned by the turnabout after a 2-2 start and some even had to pinch themselves as the team took them on what to that point had been a rare ride.  This seasons team seems poised to show that last seasons run was not by accident and that hard work will take care of any concerns.  Be sure to visit our gallery from this event at out Blue Devil Nation Open Facebook Page.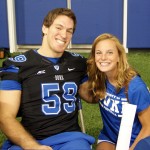 Kelby Brown is as good a spirit as possible
After his emotional and devastating injury, Duke linebacker and defensive team leader, Kelby Brown was present at the Meet the Blue Devils Day and Photo Day held Sunday.  Brown seemed to be in good spirits with concern to his future outlook but stated that he has yet to decide whether he will petition for another season at Duke.  Brown is currently in the Duke Divinity School and professes that he has had a calling to enter the field of endeavor.  He will rehabilitate his knee as if he were to play claiming that was the only way to go.  I may be getting ahead of myself here, but it's hard for me to imagine the competitive Brown not attempting to return once the dust clears.  After all, he could play beside his brother Kyler Brown a defensive end for this seasons team who will be a senior next season and close out their careers together.
Coach K busy with USA duties
Team USA has been riddled by departures and injuries but Coach Mike Krzyzewski seems up to the challenge of getting his team to where it needs to be.  Former Dukies, Kyrie Irving and Mason Plumlee remain on the team that has to cut down their roster before going overseas, but not to worry for assistant Jeff Capel will remain in Durham to keep an experienced and watchful eye over this seasons team.  On a side note, key Duke prospects Harry Giles and Jayson Tatum performed quite well helping to lead their USA U-17 team to the championship podium.
Site facelift is a work in progress
As you can see our front page view is changing and this is not the finished product.  What already helps is that if you access the site via mobile where a slider is already working. We will eventually go to a slider/hybrid.  We will also be adding a feature making it easier for brief updates which in the past was difficult in the old format.  So, stay tuned as we refine the site to better serve you.  Our goal is to make access easier to access and read.  This will take a bit of time and trial and error for the only way to make the changes was to take the initial changes live.  It is also worth noting that two-thirds of our staff will be on vacation in the next two weeks.  Any feedback is appreciated on what you like and don't like, suggestions etc.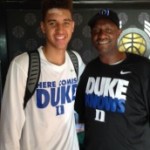 Recruiting
The basketball and football teams are almost finished with their recruiting for next seasons classes.  In fact, both programs are having great success and each are moving on to the next class.  Duke Basketball will likely sign one more prospect this season and an offer currently stands for Brandon Ingram who recently visited campus.  Ingram will trim his list by months end and will make a decision around October or the start of his basketball season.  Duke could get involved with others in that time.  Football had two top-notch visitors over the weekend and we'll talk more of that soon.  Duke most recently signed a big time front court player in Chase Jeter.
Picture Fun
Here is one from the archives of a quite light moment with Coach Mike Krzyzewski during Countdown for Craziness.