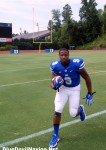 When heavily favored Duke takes on Elon to open the season this Saturday in Wallace Wade Stadium, don't expect the Blue Devils to be caught looking ahead.
"We're going to approach this game just like it was an ACC game," said Duke senior running back Josh Snead.
At the same time the star runner followed up by immediately saying, "We've got the mindset that we want to come in and dominate."
There is no doubt that the Elon game is considered to be the easiest game on the Blue Devils  schedule, but there seems to be a focus of importance that the team needs to start the season playing well and carrying over the momentum from last seasons epic 10-4 mark, the most wins in school history.
"If you look back at the Texas A & M game, we played a great game and a few plays here and there and it would have been different," said Snead. "We feel like we can build off that and capitalize going into this season."
There is always heightened curiosity going into a season opener for every team.  That certainly holds true for a Duke team where some have still questioned whether they can continue the success of a season ago or if they can match that intensity where they rolled off eight consecutive wins after a 2-2 start.
"We feel that we've put in the work in camp -- a lot of hard work, said Snead.  And a look around the pre season camp seemingly shows that with players look to be in good shape.  After all, some of the younger Blue Devils know nothing but bowl games and that is a far cry from decades of not so great football.
"I know some feel that last year our program was a fluke," said Snead.  "We've got great coaches here who help us to sharpen our skills and fundamentals each week to go out and compete with the best."
Snead stated what many have seen in practices, that players are on the same page, get to there stations quickly when the buzzer sounds and that kind of thing plays a big role on game day.
One of the main off-season concerns and a natural one after a 10-4 turnabout, is the fact that the Blue Devils had great leadership a year ago and it can be replaced.
"This year we are trying to be even better leaders. We have a lot of guys believe in what Coach Cut has presented to us.  His mission, his plan, his vision." said Snead.
Josh Snead is never one who is short for words when dealing with media, but he is also a player who seems poised to show off what he has learned on and off the field.
Snead is the type of player that finds ways to contribute be it a timely blocked punt in the Chic-Fil-A Bowl game or working to make sure newer Blue Devils continue to build on success.
"With me being one of the leaders, I try to help him out a lot.  Anything he needed help with we go over." said Snead with concern to true freshman running back Shaun Wilson currently slated to see time at the position this season.
Snead is one of a handful of redshirt seniors that in time will be considered some of the first building blocks for the resurgence of Duke Football under David Cutcliffe.  And this Saturday, another chapter in that story is set to begin.