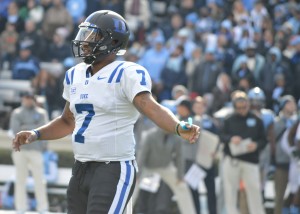 Duke vs Elon
6:00 PM ET
Saturday, August 30
Durham, NC
TV: ESPN3
Radio: Blue Devil IMG Sports Network, Sirius Ch 113, XM Ch 194
Duke in 2014: 0-0
Elon in 2014: 0-0
DUKE INJURIES
OUT – Dan Beilinson (TE), Johnathan Lloyd (CB), Trip McNeill (OL), Jake Sanders (OL)
OUT FOR SEASON – Kelby Brown (LB), Braxton Deaver (TE), Taariq Shabazz (DE)
ELON INJURIES
OUT - Karl Bostick (RB)
The 2014 football season kicks off with Elon at Duke this Saturday evening. Duke and Elon last faced each other on September 4, 2010 in a game Duke won 41-27 at Wallace Wade Stadium, in the season opener for both teams. Including the 2010 loss to Duke, Elon has lost four season opening games in a row: 45-14 to Vanderbilt in 2011, 62-0 to North Carolina in 2012, and 70-0 to Georgia Tech in 2013. Under Head Coach David Cutcliffe, Duke is 4-2 in season opening games with both losses coming against Richmond. The four wins were over James Madison 31-7 in 2008, Elon in 2010, Florida International 46-26 in 2012 and NCCU 45-0 in 2013.
HOW DUKE CAN WIN
The Blue Devils can win by controlling the line of scrimmage, dictating the tempo of the game and executing a balanced game plan on both offense and defense.
Line of scrimmage - games are won or lost in the trenches so Duke will exploit their size and talent advantage to knock the Phoenix back on their heels and keep them there. By dominating the line of scrimmage, Duke will pummel Elon with the running game while being opportunistic with the pass. On defense, Duke will look to shutdown the Elon running game and force the Phoenix into must pass situations.
Tempo of game - playing fast to minimalize substitution opportunities provides an advantage to the deeper, more talented Blue Devils squad. Duke will substitute freely on dead ball situations and between possessions to ensure the Phoenix are always facing a fresh running back and set of receivers. By utilizing a trio of running backs and possibly a fourth, Duke's running game will wear down the Phoenix defense as the game progresses. Offensive Coordinator Scottie Montgomery will call an aggressive game, so do not be surprised when Duke unveils a wrinkle or two.
Balanced game plan - mixing things up will keep Elon off balance and guessing. On offense, as stated above, Duke will feed Elon a steady diet of the running game, to both wear down their defense and set up quality passing situations. Being balanced is equally important on defense so look for Defensive Coordinator Jim Knowles to utilize the blitz as well as drop an extra defender into coverage. With the defensive line controlling the line of scrimmage, Coach Knowles will have flexibility to utilize multiple techniques with the back seven defenders.
HOW DUKE CAN LOSE
The wheels will have to completely come off for Duke to lose. Overconfidence and a total failure to value the football are pitfalls the Blue Devils must avoid. If Duke takes the field with a lackadaisical attitude and commits turnovers in bunches, Elon has the experience necessary to take advantage and capitalize on the miscues. Redshirt senior quarterback Mike Quinn is in charge of an offense that returns its leading rusher, B.J. Bennett, plus a couple of experienced receivers in Andre Davis and Kierre Brown.
Quinn set a Southern Conference record in 2013 by throwing 210 consecutive pass attempts without an interception. On the year, he threw for 2,618 yards with 17 touchdowns and nine interceptions. Bennett rushed for 464 yards on 123 attempts and will split time at running back with Tracey Coppedge who led the Phoenix in yards per rush at 4.8 with 90 attempts. Davis recorded 460 yards receiving while Brown logged 448 yards. Senior running back Karl Bostick, who is out with a broken leg, rushed for 443 yards in 2013.
WHY DUKE WILL WIN
The Blue Devils are looking to prove 10-4 in 2013 was not a fluke so they will be primed to start 2014 off in dominant fashion. Team Captains Anthony Boone, Laken Tomlinson, Jamison Crowder, Jeremy Cash and Kelby Brown will ensure the team is ready to go. The 2014 Blue Devils are a team with lofty goals and a committment to achieving those goals so they will take the field this coming Saturday with a steel focus to win.
With Head Coach David Cutcliffe, 2013 National Coach of the Year, at the helm, the chances of Duke taking the field less than 100 percent prepared and focused are slim to none.
BOTTOM LINE
Duke is too talented, too deep, too strong and too fast for Elon. This is a game that should be decided by halftime.
Duke 41, Elon 13