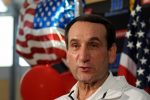 Duke Basketball Coach Mike Krzyzewski  or Coach K as he is known to many, led Team USA to its third consecutive Gold Medal with a 96-66 win over Serbia in Rio.  That's something no other coach has done to date,  Krzyzewski finished up his USABB coaching career with a phenomenal 88-1 record including a 24-0 mark in Olympic play.  Krzyzewski has now won two world championships, three gold medals and five national titles which puts him in living legend status.  Here is his post gold medal game comments.
Opening statement:
Well, the very first thing, I would like to say that from our entire staff, all the players, the personnel, we want to thank the people of Brazil for putting on an excellent Olympics, and the people of Rio de Janeiro. We were treated fabulously. Like really, I cannot think of one thing, one time that we were not treated at the highest level, and it was an honor to play in this fabulous country and this great city. We beat three outstanding teams in order to win in Argentina, Spain and Serbia, and congratulations to Serbia on the silver medal and Spain on the bronze. I'm just proud of my guys. These two guys are now the top two (Olympic) scorers in the history of United States basketball, and one of them is the top rebounder, too. So, the commitment that these guys – KD doesn't rebound (laughing). It's alright, he shoots it pretty well. He actually averaged nine rebounds a game (in his NBA season). Just these two guys, to have two veterans who've won it before to serve as the leaders for our team was fabulous.
Can you describe the journey with this team and with your journey as the national team coach?
This team kept getting better and even those three games in pool play, we had not played that type of game against that type of level.  We said it was a learning experience and our guys did learn.  We put it to good practice.  We kept getting better even though it didn't necessarily reflect in the differential in the score but we were getting better and more knowledgeable.  That's where I commend the leadership of our veterans for keeping us on course for that.  As far as (his tenure), Carmelo's been here as long as I've been here.  We shared a press conference in Japan in 2006 where after our only loss, he set the tone in that press conference for what was to be one of the standards of our program and that's collective responsibility.  He didn't make any excuses.  We took responsibility for the loss and gave credit to the Greek team.  We built on that.  I call it character.  At that moment, sometimes in  a loss, you find out a deep character in someone and that's what happened with Carmelo in then the commitment from LeBron and Kobe and all these guys, Chris, Kevin, all these guys have great character.  It's just built to where now we have a great, great culture.
What are you proudest of coaching three different types of teams to a gold medal?
I think the fact that we've done with five teams because to me, if Kevin doesn't do what he did in Istanbul, he might not have done what he did in London.  To me what he did in Istanbul is what he did today.  The coaching staff was saying that.  In fact, he took two shots further than he ever did in Istanbul today.  It's called the ultimate green light.  You didn't hear me saying don't shoot.  What I've loved the most about these guys and not just these two but the guys who have made these commitments, they've set the example for the younger generation of the United States to where now everybody is proud of USA Basketball.  It's because not just how they played but how they acted and how unselfish they were.  I'm amazed at these guys.  I've learned so much from being around them.  It's made me a better coach.  This experience this summer has made me a better coach.
How much did coach Tom Thibodeau help you out on the sideline?
Tom is one of the great coaches on this planet. Obviously defense, a lot of people have said that's what we need. He and Monty (Williams) are amazing. I think having him for these four years, he and Monty have been a blessing to me. To be quite frank, he talks to the team more than I do. Then when I need to interpret something, I'll interpret some things, I'll interject something or today's meeting I cut short a little bit, but it was a good move. It was a good move today (laughs).
Having Tom's voice there, it's one reason, I always sit down during the ball game. I'm not a coach who stands a lot, because I got good guys around me. The best guy around me is Jim Boeheim. For 11 years, he and I have been co-coaches for this team. But to have Tibs next to me, yelling, I've learned a lot. I think the people in Minnesota are very lucky. His players are going to have … they're going to be taught the game well. One thing about Tibs, he's got a great voice, he's got an unbelievable voice. I said, "If you weren't a basketball coach, you should have a radio show from midnight to 4 in the morning and you could be saying, 'This is Tom Thibodeau from Minneapolis.'" That's what I feel about him.
How does today's victory rank among your USA Basketball victories?
This ranks just like the others. I've been really a lucky guy, collegiately and internationally to be a part of championship teams. I'm just proud of the fact that Jerry Colangelo, when he took over he gave me an opportunity. The way these players have felt, they've been given an opportunity to play for their country and you make the most of it. I love the fact that almost a year ago, well, probably seven, eight months ago, we already named Gregg Popovich to take over. So, you have the best guy in the world coach the team now. That says a lot about the program that's been developed.
With three gold medals, yet you don't have any gold medals. What do you take home from this?
The main thing is all the memories and for me, seven of my grandchildren were here, out of my nine.  A few of them have been to all three Olympics, what a blessing. The night before the last three games, I had a chance to eat with my grandchildren, my daughters, my wife. For them to share this, a lot of the guys their families have shared this. That's what I take from this. It's been a joy. I've been so lucky to be given this opportunity.