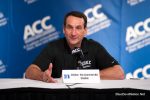 Welcome to the first edition of Random Musings which will replace Monday Musings.   It's all about Mike Krzyzewski, also known as Coach K in my first attempt at providing some in interesting thoughts and tidbits.
Coach Mike Krzyzewski will return today from Rio, where he led his team to a 3rd consecutive Gold Medal.  That of course is a record. Krzyzewski now has ten championships on his resume which include two world championship gold medals, three olympic championship gold medals and five national championships at Duke. His arrival at Raleigh-Durham International was kept under wraps due to crowd constraints, but he is landing as I release this article.
If I were to guess, Coach K as he is known to many, will fulfill some media obligations, check in with his team and then take some time with his family in a much deserved vacation.
Before, said vacation it is fair to expect that some key basketball recruits will be getting some calls.  That includes Wendell Carter, Kevin Knox, Muhammad Bamba, Quade Green and Gary Trent.  He is also likely to call a few younger guys who have entered the picture.
One of the guys who benefitted from the Team USA experience was Duke Assistant Coach Jeff Capel.  The Blue Devils have been able to always send assistants with Krzyzewski which is one of the many reasons the staff is always top-notch.  Capel has become a go to recruiter at Duke and his presence is like having two head coaches. That causes some to speculate that he could be the coach in waiting.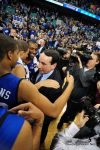 However, do not expect Coach K to step down anytime soon.  The USA Basketball experience has reinvigorated him.  He has also had successful off-season surgeries to nagging issues and looks young for his age.  Just when you think Duke Basketball has reached its zenith, he takes it to another level.
Yes, Duke fans are lucky.  Having Coach K at the helm is something which Blue Devil faithful should be thankful for.  He could have easily left for the NBA but his legacy will be formed at Duke. Despite being a college coach, he was able to coach more players in the NBA than any coach via USA Basketball.  Those of us who have followed the program since his arrival realize the hard work he put in to get it where it is today.  Each stone placed along the way has been carefully strategic.  Facilities were born, recruiting got better, assistants came from within, etc.  Many of you reading this were born into rooting for a juggernaut program, but there were sometimes painful steps at times in the past.  It is important to learn the history of the program to better realize the luxury it has become for fandom today.
Don't expect reflection from Coach Krzyzewski.  On thing I have learned covering the Duke Beat for a good long time is that Krzyzewski does not reflect on the past.  He once told me that there will come a time for that.  Marc Stein of ESPN recently did some outstanding articles on Krzyzewski where he repeated what was said.   Krzyzewski mentioned to me that staying hungry is to not get caught up in past success and that mind-set is why this years Duke team looks like a flat-out beast,  There is always work to be done for Krzyzewski who is infamous for not getting a lot of sleep due to watching film.  There is always a mission at hand for Krzyzweski and he never celebrates too long.  The first chink I ever saw was just after the 2015 National Championship game once he returned to Durham.  He even mentioned there is little time to celebrate before having to attend the first session of the Nike EYBL circuit in Hampton, Virginia,  That was a mere four days after the confetti fell in Indianapolis and the players stepped off the podium with the trophy.  A full season's work had to be put on hold to begin the recruiting process that would land Harry Giles, Jayson Tatum, Frank Jackson and the rest of the talented class coming in.  It's not that Krzyzewski doesn't want to reflect, it is that he simply cannot afford to and he realizes it is the price for success.  Besides, he has enough memories to more than feel a lifetime when the basketball rolls into the corner of Cameron and settles to rest.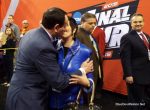 When Krzyzewski says family, it would take an army of help to plan a party.  Mike has a very extended family through his daughters to be sure, but each and every player is given an open door once they leave Duke should they so choose to use it.    It will take family to orchestrate the congrats from his extended family of players in the coming days.  After accomplishments like this, Krzyzewski hears from everybody.  It is a joyous time that likely has to be steeped in time management.  What makes Krzyzewski successful is he is a good planner, but it is his family that keeps him in check, including the watchful eye of his wife Mickie.  She is always at his side.  Every championship I have attended she is there as a steadying influence. Some people may not realize that Mike Krzyzewski is a people person.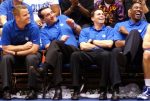 There is a side of Krzyzewski some have not seen.  I have seen him in instances where he truly takes up time with youngsters and even the average Joe.  He is so  open to people that he had to rein it in around the late eighties.  Everybody wanted a piece of Krzyzewski then and he tried to give too much of himself.  When he goes to recruiting events, the whole room watches. Kids invade his space not knowing this is business for him.  Imagine when he tries to go to local restaurants and such.  Despite all of that, when the opportunity presents itself, he will make a person feel like they are his focus at times.  It's hard for folks not so see him as super human with his accomplishments but he is indeed just a man.  Little known facts of him helping opponents come the NBA Draft are numerous, but they are not often seen.  But I imagine there are times when he wishes he was just an average Joe where he could walk into a room and not be bothered,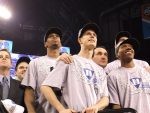 It's still an open book for Krzyzewski.  There should be little doubt that Coach K likes what he does.  He enjoys coaching, teaching and building.  He likes championships too for that is the ultimate prize that shows off hard work pays off.  This year's team is loaded but there will be similar expectations as there were with USA Basketball.  In short, people, media and fans will expect a championship.  But Krzyzewski welcomes that pressure in that it means you are on top.  People often ask me how much longer he will coach.  My answer is to say look at where things are and how much fun he is having.  I for one am enjoying the ride.  I hitched my wagon to the train when he first appeared at Duke when nobody could spell his name.  I remember the recruiting misses, fans wanting him gone, when he sent a message to a then dominant North Carolina program, that a new kid was on the block.  There was a time when all the Duke games under Krzyzewski were not televised.  People would listen to Dawkins led teams take on Jimmy Valvano or Bobby Cremmins led teams through the voice of Bob Harris on the Duke Radio Network.  I remember Krzyzewski coaching Fosters leftover kids like Gene Banks and Kenny Dennard to when he missed on recruits like Chris Mullin and Bill Wennington to later get Alarie, Bilas and Dawkins which got the ball rolling.  Uh, yeah, my memories are so plentiful that reflection would take forever, so imagine how Krzyzewski must feel.  I sometimes wonder if he thinks about when Duke played on HBO versus USC.  Really, they did.  And such an odd factoid is but one of many thousands.  I am thankful to have been on his journey which has become my journey as well.  And I for one, can't even imagine an end.