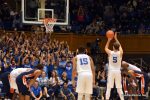 It's time for a look back at the past week before Duke takes on Augustana this Friday in Cameron Indoor Stadium.
The word is in on Jayson Tatum
Well, the number one thing we heard last week was tha Jayson Tatum suffered only a foot sprain in practice.  For what it is worth despite wearing a walking boot in Friday evenings exhibition game, he was moving around just fine.  You can expect Duke to bring him along slowly but he will back sooner rather than later.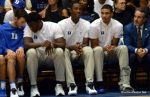 Injury plagued Blue Devils win
The Duke Blue Devils faced off against Virginia State and came away with a 90-59 win.  Matt Jones played all of three minutes before going out with a hamstring injury.  He is expected to be back for the final exhibition game versus Augustana this coming Friday.   Grayson Allen was also limited to just 22 minutes and made a trip to the locker room after a fall, but he is good to go now.
Luke Kennard Keyes the Win
With four Blue Devils sidelined with injuries, Luke Kennard took the leadership role in just his second season at Duke.  Kennard played some at the point guard spit  knocking down a game high 30 points to go with 6 rebounds, 2 assists, a block and 2 steals.  His play earned Duke Coach Mike Krzyzewski's praise in the post game press conference.  Krzyzewski told Blue Devil Nation that he expected his prized sophomore to step up in the situation and that he did so with flying colors.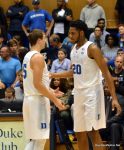 A Double-Double for Marques Bolden
Exhibition game or not, a double-double is impressive your first rime out in a Duke uniform.  Marques Bolden played a cool and steady game on his way to 13 points and 11 rebounds.  More impressive to myself from the sidelines were his 5 blocked shots where he is allowing Duke to do some different things defensively this season.  Bolden is obviously going to continue to be a force in the paint for Duke all season.  It's should be no secret that he said with certainty in the post game locker room that he wisely chose to play for Duke.
Other Freshman, Solid Too
After a slow start, Frank Jackson settled in and had nice effort. Jackson had 17 points and 4 assists on Friday evening.  The play of the game went to Javin DeLaurier who blocked a shot, gained control of the ball, only to dribble the length of the court and throw down a monster slam dunk.  Krzyzewski praised both players after the game and said that DeLauriers play added some needed energy.
A Key Coach K Comment
If one is to listen closely to Mike Krzyzewski in his press conferences, they would realize he let's you in on some things. Grayson Allen may actually have been pushing too hard in the season first Blue-White and exhibition games per Krzyzewski.  What he said makes sense in that he wants to slow Allen down a bit.  By doing so, expect a different Allen come the Augustana game and as the seasons moves forward.
Duke Honors
I voted for Grayson Allen and ACC Player of the Year as did fellow media members.  Allen also made the first team, while Jayson Tatum finished runner-up in the Rookie of the Year voting and was placed on 2nd All ACC team.  Duke was picked by the media to win the league.  The Blue Devils were also picked number one in the nation by the A.P. this past week as well.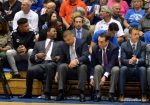 Duke Entertains Two Big Time Prospects
As you may have read in our latest recruiting update for members, Duke has entertained a ton of key prospects of late. This past Friday, Kevin Knox visited Durham where he was called over by the Cameron Crazies to sit with them.  Duke offered Knox long ago and it is no secret that he will pick his collegiate choice in the Spring. The Blue Devils also entertained big time 2018  PG prospect Darius Garland who sat with Knox behind the Duke bench and near the staff.  Duke would later offer him a scholarship.
Kevin Knox looked at home. @kevin_knox23 pic.twitter.com/SzEjqpDeL4

— Blue Devil Nation (@BlueDevilNation) October 29, 2016
Blessed to receive an offer from Duke University🔵 #BlueDevils pic.twitter.com/bDMmlinsdC

— Darius Garland (@dariusgarland22) October 29, 2016
Kevin Knox stands with the Crazies after being called over. @kevin_knox23 pic.twitter.com/0K79C7VqVh

— Blue Devil Nation (@BlueDevilNation) October 29, 2016