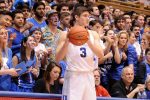 Everywhere I go someone asks me, when will our injured freshman be back.  Well, nobody but the Duke staff knows the answer to that but  I think they'll all play this season.  Some are saying Harry Giles should sit out the season but he did not come to Duke nor is he rehabbing hard to do that.  Giles will play at some point this season and it will help his draft status to do so.
Now, some say what if he gets injured and such.  All I can say is an NBA team will not draft him as a top 5 pick if they have not seen him play. Trusted sources say Giles is coming along and working his way back into shape.  That should be good enough news for fans who realize we haven't even hit December yet.
The first of the injured trio to return will likely be Jayson Tatum.  At some point Mike Krzyzewski will give him a go but most do not expect that to be this week.  Duke can survive games with William and Mary and Appalachian State without any of their injured players.
And then there is Grayson Allen who is suffering a toe injury not to mention some you haven't heard about.  You see, that's thing with Duke, they keep stuff like that close to the vest.  So, those who keep turning up rocks for clues about the return or status of players may as well relax and enjoy the team that's on the court.
Furthermore, the team is not trying to keep secrets from fans and such when being coy.  They are trying not to allow other teams a better preparation by not knowing what to expect.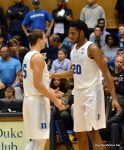 Duke teams have suffered many injuries over the years, some during championship seasons, so this is nothing new.  The silver lining of the injuries is that other players have been allowed the spotlight.
All of the Blue Devils talented perimeter players have gotten better.  Maybe you haven't noticed but those guys are chasing down a lot of rebounds as well.  And let's not forget the endurance they've built having to go all out for close to 40 minutes per contest.
The bottom line is when Duke gets some help back up front, they'll be on of the scrappier teams going.  That is the kind of thing Krzyzeski was counting on coming into the season.  He wanted to put players on the court who could go all out, all the time.
Once Duke has some more bodies we'll continue to see man to man defense mixed with traps and zone.  Sometimes it takes more depth in the back to do certain things on the defensive end.
Until then, we are seeing Frank Jackson step up and he is playing like one of the best freshman in the country and he'll just get better. Then there is Luke Kennard who has probably been the teams best player to date.
Add to that, sensational senior leaders in Amile Jefferson and Matt Jones and one must feel good about the Blue Devils chances as the season progresses.  And Grayson Allen will surely get back into the groove after some average performances by his lofty standards.
There is no doubt that Duke needs it's depth.  Krzyzewski was straight up honest in saying his team was tired after the win over Rhode Island and they were.  But Duke also played 5 games in 10 days, short-handed and barely lost to a pretty good Kansas team.
Some are saying Duke looks vulnerable and similar to last season, but I see a team that lost by a bucket to one of the best teams in the country versus Kansas that will get healthy.  In fact, this sixth place ranking Duke currently holds will likely be the lowest spot in the poll this season.