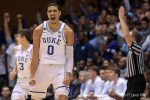 After an 86-78 win over their arch rival North Carolina the Duke Blue Devils are in a good place.  At no other time this season has Duke been collectively healthy as they are right now.  While there is still a long ways to go for Harry Giles and Marques Bolden due to injuries, the Blue Devils seem ready to get even better.
Jayson Tatum, role ready
As good as Jayson Tatum can be, it took a change in roles for him to truly help his team win.  Tatum led Duke in rebounding and assists in the win over North Carolina.  But more importantly, he did not let a slow start keep him down.  Tatum scored most of his 19 points in the 2nd half.  His new role asks him to rebound more and this has led him to a better overall game.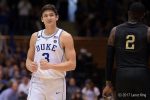 Grayson is mentally back
No player in the country has been scrutinized more than Grayson Allen.  While some of that was deserved with concern to antics which hurt his team, he has moved forward.  Allen blazed the Tar Heels from beyond the three-point stripe and had fun in doing so. Allen looks care free now with concern to his play while at the same time exuding control of his emotion.  Channelling emotion in good ways is helping both Allen himself and his Duke teammates.
Steady Kennard
It took a three-headed monster for Duke to overcome a game bunch of Tar Heels in Cameron.  Luke Kennard continues to deliver timely offensive buckets.  The sophomore has been as steady as any player in the country all season long.
Giles accepting of his role
I bet some out there think Harry Giles wants more burn.  Well, he does, but he also knows he is running his race at a certain pace.  Giles is accumulating solid stats per minutes played but he is accepting of his role.  He made it clear that he appreciates how Mike Krzyzewski is bringing him along in the locker room.  He has been given a role, knows what it is and that things will only get better in time.  Giles is showing the kind of patience one looks for in a potential star coming off the bench.
The little things...
You don't have to jack up 15 shots per contest to have an impact. Matt Jones hit a lone, but huge, three-point shot.  But his two steals were timely and kept the Tar Heels from gaining momentum.  Duke got some solid minutes from Frank Jackson as well who did not miss a shot from the field.
In closing
Duke is only going to get better and they will do so at the right time of the year.  They're destiny is in their own hands for they have four games remaining against Florida State, North Carolina, Syracuse and Virginia.  All of the aforementioned are currently ahead of Duke in the standings or in a top four slot.  The top four seeds in the upcoming ACC Tournament get a double-bye.
Duke has about a half of a day to celebrate the win over North Carolina for they face Clemson tomorrow in Cameron.  Duke will be going for yet another 20 win season under Mike Krzyzewski.  In a sense, the short turn around could help the Blue Devils come March. Teams are forced to win big games and then move on to the next one in a similar circumstance to the scheduling of said games.
The win over North Carolina was he 501st victory for Krzyzewski in Cameron Indoor Stadium.