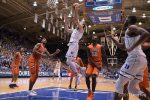 There is little reason to talk about the Duke win over Clemson other than they won.  Yes, they looked flat-footed  on offense and yes they were tired.  In just mere hours the team had to put the big win over UNC behind them.  That is not easy.  It is not easy in that their friends, classmates and visitors all want a part of them.
Yes, Duke struggled to beat Clemson and it took a solid effort from Luke Kennard to seal the deal.  The sophomore sharp shooter ended the game as the only Blue Devil in double figures with 25 points but they got through what many call a trap game with a win.
Enough about the Clemson game alone; lets talk about the week. Duke gained two key wins in the rough and tumble Atlantic Coast Conference.  They are now riding a five gain winning streak and Duke won 20 plus games again under Mike Krzyzewski with a lot of season to go.  Duke will now head to Virginia with an 8-4 record in league which is one game out of the loss column from the top.
The bottom line is despite the close win over the Tigers, Duke is in a good place.  More importantly, they are getting better and tougher again from the experience.  That experience should pay off in close games or when adversity hits in March.  The Blue Devils are starting to look the part but as Mike Krzyzeski said in the post game presser, there is still a ways to go.
Duke will get the day off on Sunday and away from basketball for a bit per Krzyzewski and he should too.  But he will likely be texting his assistants in short time and watching film on the Wahoo's who sit just ahead of them in the standings.
Duke controls their own destiny the rest of the way.  They have just six regular season games left and four of those are against teams that are just ahead of them or they are tied with in the standings.  Despite all the adversity, Duke finds itself in a pretty good place at 20-5 and heading in the right direction when it counts.
All that said, I mean no disrespect to Clemson in not going into a game story.  The bottom line is the big picture is the main story in that Duke is playing better and winning.  It is the time of year when you have to put wins behind you quickly and move forward.  And that includes a big win over your rival or a unexpected close win at home.