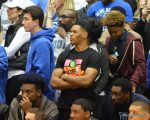 The Duke Blue Devils hosted point guard Trevon Duval for their win over arch rival North Carolina  this past week.  Duval is one of the two top targets left in the Class of 2017 for Duke with the other being Kevin Knox.
Duval has good length and size, standing 6-3  and weighing in at around 180 pounds. He has a muscular upper body which will help to make him college ready a season from now.
Rated as the top point guard in his class, Duval stayed through Friday for his official visit with The Blue Devils.  During his visit he was able to tour the Duke campus with all of the assistant coaches and meet with Mike Krzyzewski.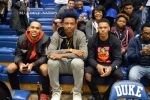 Duval was also able to spend time with Blue Devils to be Gary Trent Jr. and Wendell Carter Jr. who were visiting as well.  Trent would end up staying for the Duke win over Clemson before returning to California to finish up his high school basketball season.
The coveted point guard prospect also got to see the top-notch NBA-like facilities.  He was also able to hang out with current freshman Harry Giles Jr., Jayson Tatum and other Duke players.
There were a couple of signs encouraging Duval to come to Duke in the stands during the Duke win over North Carolina.  Daval was able to see the rivalry up close and personal while sitting with his Father and other close to him.
In between timeouts the Cameron Crazies tried to get Duval to sit with them via a chant.  But the noise and the intensity from a thrilling win over North Carolina made it impossible to be heard with the band and music playing.
It probably goes without saying that Duval knows there is a wide open spot at the point guard position at Duke.  It is likely as well that he is aware that he would play with a talented cast of players who will compete at the highest level.
Future Blue Devils @wendellcarter34 and @THAT_KID_GARY with @DatGuy_Trey after Duke defeated UNC in Cameron. pic.twitter.com/Yf7n5jecEE

— Blue Devil Nation (@BlueDevilNation) February 10, 2017
Duval is very physical on his drives and goes north to south in quick fashion.  He is an explosive player who can score the ball and is working on being a better distributor. Duval has a great handle and can pull up for the jumper with ease.  He can adjust with the ball on the fly with his athleticism and is getting better from beyond the three-point stripe.
Kansas, Arizona and Baylor are among other schools that have offered Duval.  Most consider Kansas where he visited on January the 31st and Arizona to be the main competition for Duke. However, Duke seems to be in good shape in his recruitment and the word is he had a nice visit.
Duke also had a visit from Alex O'Connell for the game with Clemson.  O'Connell and the aforementioned Carter and Trent make up the 2017 Duke class to date.
@Alex_OC11 is in the house. pic.twitter.com/AK81hX7LZP

— Blue Devil Nation (@BlueDevilNation) February 11, 2017