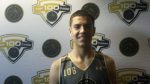 When the dust cleared from this past weekends NBA Top 100 Camp, Cole Swider ended the event as the third leading scorer at 14.8 ppg. The dead-eye shooter from beyond the three point stripe was recently offered  by Duke and the Blue Devils likely lead for his services.
One long time analyst said Swider had an extra bounce in his step during the event.  It is up to conjecture whether a visit to his dream school which is Duke had anything to do with that.  But it is clear that the Blue Devils see a player who fits their system and one they want to coach.
It is also clear that Swider is  not only a solid prospect, but that he likes Duke and that he could very well commit early.  In fact, he officially visits Duke this week on June 23rd and 24th.  That is one day after the NBA Draft and starts this Friday.
You had an injury in your second game which sidelined you...
Yeah, I came down wrong in the first half and just turned my ankle, but it is better now.
How do you feel about your play thus far?
I have been playing pretty well, shooting the ball well, my teammates are helping.
How is the recruiting process going?
It's going well.  I recently visited Duke and it went really well.  The meeting with Coach K was awesome.  It was awesome that they offered,  That was my dream school growing up and to finally get the opportunity to see them and what they're all about was nice.  They said they'd been watching me and asked if they could get into my recruiting.  And I said it is a good thing you called because I was about to narrow it down to eight, but yeah, I can see it being a good fit, especially for me.
You have mentioned you may be making a decision sooner than most kids.  Why is that?
Recruiting is fun in the beginning, but towards the end everyone starts to want you and I don't want to waste any ones time, so...  I am going to figure out when my parents come up pretty soon what I will do and trim my list.
You said Duke was a dream school.  What was it you liked about them?
They were my dream school and I loved watching them play.   Jon Scheyer called me and we've been talking ever since.  He said he could see me being a Duke basketball player and talked to me about that.  Growing up, I use to look up to Kyle Singler, Jon Scheyer, Nolan Smith... those are some of my favorites.  I remember watching when they won the national championship against Butler when I was in the 4th grade and it was awesome.
Describe your game in your own words.
I shoot the ball really well.  I crash the boards and I can attack the basketball too.  I will do whatever the coach needs me to do.  I guess some see me more as a wing but I will do whatever a coach asks me to do.
What are some of the things you are looking for in a school, a program and a coach?
I want to see if they have a plan for me coming in and hope to play right away.  And hopefully, they can help me get to the next level.
Who will play a role i n helping you decide where to go at the next level?
My high school coach and my parents.
What are you like off the court?
I think I am a pretty sociable guy with my friends.  I just love playing basketball and practice every day.
What about Michigan?
Everyone says I fit into their offense and they came in kind of late, but have been texted me a lot.  Everyone has pretty much contacted me about the same.
I know Xavier has been on you.
Their coaching staff texts me every single day and they have been there from the start.
Villanova?
Jay Wright wants me to come in and get buckets, so...I am really cool with Jay Wright, he's awesome.  They have done a good job recruiting me.
Will you be taking more visits?
Yeah.  I am  not sure yet as to where I want to visit.  Like I said, I will sit down with my parents.
You said, you would be deciding early.  What will that entail?
I don't have a timeline but have an idea of the schools recruiting me and what they are about.  I don't think I will take all my official visits. They spend a lot of money and if I know of four schools I want to consider or less I won't take all the visits.  I haven't seen Michigan, Miami and Indiana but the rest I have.
What are your impressions on visiting Duke?
Seeing  Coach K in real life was kind of crazy.  He didn't really differ from some of the things I imagined but it was cool, it was just Duke. Me and my parents had a chance to sit down with Coach K and talk to him a little bit.  I talked of the strength and conditioning and with some advisors.  Coach K came back and we watched some film together.  It was really cool.  Coach K said he wanted to offer me a scholarship and it was awesome.