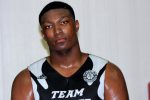 David McCormack has had a busy spring.  The 6-9 post player is taking a break from Oak Hill Academy to attend camps which included the NBA Top 100 Camp in Charlottesville this past weekend.  He has also played with Adidas on their European tour just getting back before his latest event.
McCormack holds offers from Oklahoma State who recently hired his AAU coach.  He is also a target of Georgetown and N.C. State is making a run, among others.  The popular big man visited Duke this past Saturday with his mom where he had a successful visit in allowing him to see the facilities and speak with the staff.
The Oak Hill product is a priority target for Duke and the Blue Devils will certainly be a factor once he decides his destination.
You had a great start to the camp putting up balanced numbers.
Just sticking to my natural game, being a powerhouse, playing hard.
You recently had a chance to grow your game by playing overseas. How did that trip help you?
It was great.  I had a chance to go into Venice which was awesome.  I liked the relates, Italian ice cream is amazing.  The practices and my time their was very structured.  A lot of people said I played well at the event, but, ,me personally, I am never satisfied.
Definitely that I need to improve on playing against taller players.  we were playing against players who were 7-5 and he had a long wing span making it more difficult to get shots over him.
You are more of a traditional big man with your play.  How important is if for you that schools recruiting you have had success with true centers?
Very important in that the school needs to fit me.  I need to make sure the program and coach fits me with their playing style.  I am definitely looking at inside/out style of play and how they develop big men.
You had a good spring thus far.  What is the reason for that?
It is just a case of me getting better.  I have worked on my body and expanding my game beyond the paint.
Have you trimmed your list yet?
I haven't trimmed my list at all and are open to any school coming in. I have no timetable yet and will just visit some schools with my fam
You have lost some weight and worked on your body.  How has that come along?
I am down to 265.  In total, I think I have lost about 40 pounds from my heaviest.
Any visits planned?
After this camp is over I will be taking an unofficial visit to Duke. And I plan to visit N.C. State on Fathers Day.
Describe your game in your own words.
Big guy, traditional big, old school player who loves to play in the paint.  I work hard, tries to use his outside game, tries to have a mid range game, loud vocal and has a lot of energy.
What are your thoughts on the Duke program?
Definitely a great program with a great tradition, Coach K, Coach Capel, Coach James, their big man coach...it is all good with great coaches on the bench.  I talked to the whole staff evenly.  I talked to Coach Capel, James, Scheyer and even Nolan Smith at times.
Are other schools on you hard?
Talking to a lot of schools, non stop, my phone is blowing up.
You visited UVA...
I got to tour the facilities and build a relationship with the UVA staff and how they would use me. He would like to have an inside presence he has not had.
How did the Duke visit come about?
That was their request and moms request.  She wanted me to get on campus and see what it was about.  She does not like all the flash talk.  She wants to get down to business and have a sit down with Coach K and the rest of the staff.
Who are some of the people who will help you in making a collegiate choice?
As far as the decision goes, I have a small circle.  Me, my mother, aunt and pastor to make sure there is a great fit athletically, academically and spiritually.  As far as coaches, I want to build relationships and see their plans for development.
Are there players on the circuit you would like to play with in college?
I can play with anybody.  I am not selfish player.
You recently had a trip overseas where you could improve your game.  Tell me about that.