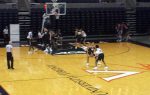 The NBA Top 100 Camp got underway in Charlottesville, Virginia yesterday afternoon.   Duke has a few prospects here including David McCormack who is slated to visit the Blue Devils campus this Saturday.
McCormack has been solid averaging 10.5 ppg and leading all camp players by pulling down 10.0 rebounds per contest.  He is playing for the Bucks where his teammate is Cole Swider who also holds a Duke offer.
Swider is the  9th leading scorer in the camp at 11.5 ppg despite playing just 14 minutes after being injured in his second game. Swider had nice things to say about the Blue Devils as did McCormack which is covered in detail on our premium message board.
In other camp notes, Matthew Hurt is averaging 10.5 ppg and Duke has shown interest in him.  UNC bound Coby White is the 2nd leading scorer here to date at 20.0 ppg.  Also impressive is Simisola Shttu who is putting up numbers of 23 ppg and 8.5 boards